French furniture company Roche Bobois is celebrating its 40th anniversary in the United States with a collaboration with American designer Stephen Burks.
The event will be celebrated during Philadelphia's Old City Fest, a street fair event that runs with Design Philadelphia, an event that honors the city's history with design. Roche Bobois will be able to celebrate its own past alongside the history of Philadelphia and other designers.
Philly past
Mr. Burks will discuss the creative process behind Roche Bobois' Traveler chairs at the Roche Bobois Showroom on Sunday, Oct. 12.
Design Philadelphia is an event that runs from Oct. 8-17 and will feature the design, manufacturing and architecture history of the city. In 2005, this festival emerged to celebrate and raise attention of the city's creative side.
During the nine-day festival more than 120 events will occur to showcase the opportunities and talents in the area.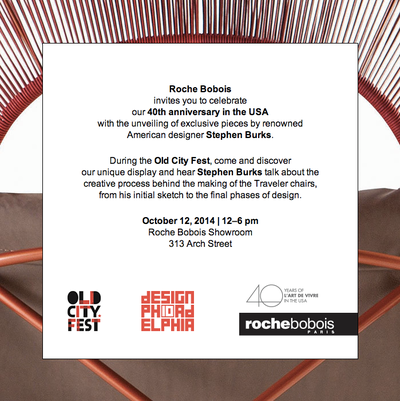 Roche Bobois' Facebook post
Roche Bobois' presence at this event will allow the brand to be aligned with American designers and artists, a perfect place for the brand as it celebrates 40 years in America.
On Oct. 8 the brand is celebrating the anniversary on the West coast with the launch of the California Interiors' fall issue. The brand is hosting a cocktail party for the event in its store in La Jolla.
Other brands have celebrated their histories at festivals.
For example, British apparel and accessories label Mulberry gave consumers an up-close look at how its Bayswater handbag is made with a branded tent at the Wilderness festival in Oxfordshire, England.
The tent, labeled "Mulberry Loves Craft," let consumers witness the brand's craftsmanship as well as make a personalized bracelet of their own. Creating an active way for consumers to experience the craftsmanship of the brand helped the message stick with participants (see story).