U.S. footwear label Stuart Weitzman is joining New York-based charity Baby Buggy to help families in need afford products and services for their children.
Given the high expenses involved with raising a family on a low income, Baby Buggy, founded by comedian Jerry Seinfeld's wife Jessica, works to provide essentials such as equipment, toys and clothing for infants and young children in need. As a woman's footwear brand, Stuart Weitzman consumers will likely relate to the cause and want to become involved.
In need of baby booties
This fall, for a limited time, Stuart Weitzman will offer consumers the Stuart Weitzman Baby Buggy collection. The collection will be available on the footwear brand's ecommerce page as well as in-stores at its flagship boutiques in New York and Beverly Hills, CA.
The Stuart Weitzman Baby Buggy collection features three pairs of boots which have been named after Ms. Seinfeld's three children: Sascha, Shepherd and Jules.
Stuart Weitzman's Sascha is a thigh-high slouchy boot available in black nappa, black suede, bordeaux suede and topo suede. The retail price is listed as $795.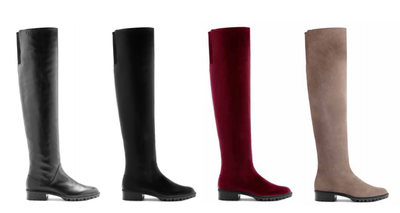 Stuart Weitzman Sascha boots
The Shepherd boot is an over-the-knee combat-styled high-heel available in nero sport calf, walnut vecchio nappa, loden suede and slate suede. Stuart Weitzman lists this boot for $695.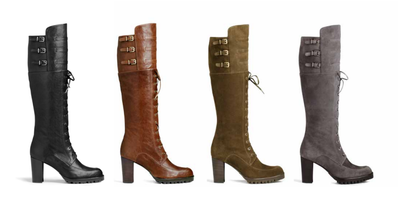 Stuart Weitzman Shepherd boots
Lastly, the Stuart Weitzman Baby Buggy collection includes the Jules motorcycle ankle boot produced in nero velour, seal velour, nice blue suede and black vecchio nappa. This shoe retails for $515.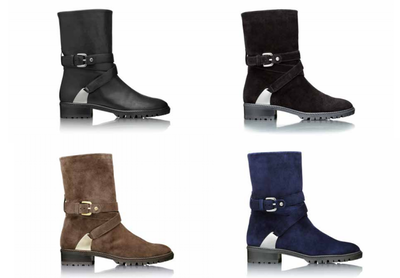 Stuart Weitzman Jules boots
Proceeds from the collection will be donated to Baby Buggy. In 2013, .91 cents of every dollar raised by the Baby Buggy charity went toward programming for families in need.
Luxury brands often tap their consumer base to help those less fortunate.
For instance, U.S. fashion label Michael Kors is continuing its efforts to stop world hunger with a host of initiatives in honor of World Food Day on Oct. 16.
In July, the label celebrated 5 million meals served through its partnership with the United Nations' World Food Programme. Now, Michael Kors is working to spur additional donations with a limited-edition timepiece (see story).