The Ritz-Carlton is sparking interest among its dedicated guests with an opportunity for Ritz-Carlton Rewards members to spend an evening with gold medalists Meryl Davis and Charlie White.
Only 12 couples will have the opportunity to spend the night skating, eating and drinking with the skating duo at the Ritz-Carlton Lodge, Reynolds Plantation, GA. By creating exciting events for rewards members, Ritz-Carlton is grasping the attention of regular guests and creating opportunities for the brand to interact with some its most loyal customers.
Gold medal event
The lakeside resort in Georgia will host Ms. Davis and Mr. White along with the 12 couples on Wednesday, Nov. 19. Lake Ococee's ice skating rink will be the stage for an exclusive performance by the pair followed by a group skate session where guests will have the opportunity to get on the ice with the gold medalists.
Following the ice activities, a three-course meal will be served where the guests will be able to spend some time with Ms. Davis and Mr. White.
This opportunity allows Ritz-Carlton Rewards members to gain more than just hotel and resort perks, but also a VIP event.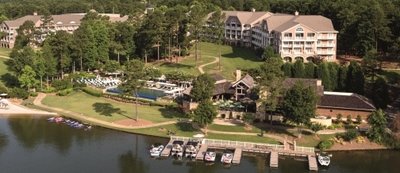 Ritz-Carlton on Lake Ococee
Creating one-of-a-kind events for members can create a stronger bond with loyal consumers.
For instance, as part of its ongoing strategy to reward its affluent customers, American Express gave fashion-savvy cardholders access to Mercedes-Benz Fashion Week via The American Express Skybox, an invitation-only VIP lounge overlooking the event (see story).