British automaker Land Rover unveiled an installation with Italian artist Nino Mustica to bolster its reputation during Frieze Art Fair London.
Land Rover enlisted Mr. Mustica to collaborate with the brand's design director Gerry McGovern. "Unstoppable Spirit" includes two sculptures that climb 23 feet into the air. Whether or not attendees intended to stop by the installation, the public nature of the work along the River Thames will likely draw traffic and generate conversation.
Stop and stare
The Unstoppable Spirit installation features a pure red and a pure blue steel and glass fiber installation. The two abstract installations frame the Royal Festival Hall beside the River Thames.
Intricately curved structures wend in the air with a coated Land Rover model embedded in the middle.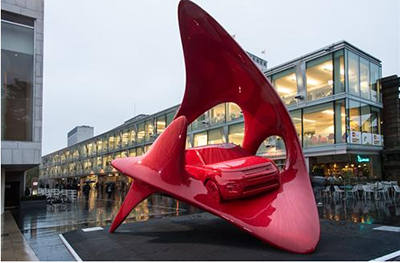 Unstoppable Spirit
To achieve the curved surfacing, the collaborators used Land Rover's virtual reality cave, a process that the brand uses for its cars.
Workers then handcrafted the sculptures in Turin, Italy. Overall, more than 8,000 hours were spent on the designs.
Unstoppable Spirit: a collaboration between artist Nino Mustica and Land Rover's Gerry McGovern
The installation is available to the public until Oct. 19.
Luxury automakers are vying for visibility at the Frieze Art Fair Oct. 15-18 in London to further align with the hyper-concentrated art world.
Whether commissioning installations or setting up interaction spaces, automakers understand that a strong reputation in this arena will likely translate to sales and reflect upon their own design aesthetics. As the art world continues to become more expensive and competitive, luxury brands from all categories stand to enhance and benefit from the atmospheres of art fairs (see story).