British automaker Jaguar Land Rover is launching the Jaguar Heritage Driving Experience for consumers to test-drive several sports car from the brand.
In November, a 200 acre testing facility will open for consumers to drive vehicles from Jaguar's racing history. The unique opportunity to get behind the wheel of these storied cars will create a strong bond between participants and Jaguar.
Vroom, vroom
Vehicles such as the Le Mans Jaguar D-Type, E-Type and F-Type R Coupe will be available for guests to test. This will be the first time many of these vehicles are driven by the public.
There are several experience packages consumers can choose from. The lowest priced package includes sitting in the passenger seat of several drives and driving the modern counterparts to the heritage cars.
The Le Mans Experience allows guests to drive the C- and D-types and drives in the XKSS and F-Type R Coupe.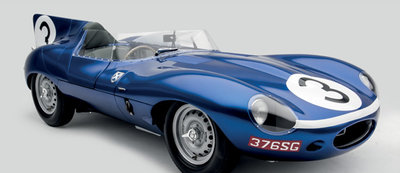 Jaguar D-Type
Grace and Pace Experience is the top-of-the-line package that includes a full-day of driving Jaguar heritage vehicles from different periods in the brand's racing history. Participants will also receive a guided tour of Jaguar's "Perfect Ten" exhibition.
Jaguar has offered test-drives of their vehicles before, like at the three-day equestrian event, Bromont CCI***.
The competition hosted the best horses and riders in eventing was the focus of the weekend, but the three days also featured activities for fans courtesy of Jaguar Land Rover. Spectators, both brand enthusiasts and newcomers, had the opportunity to test drive new models and gain knowledge of the brand (see story).