British automaker Jaguar Land Rover is celebrating the production of its first Land Rover Discovery Sport premium compact SUV at its Halewood, United Kingdom factory.
The Discovery Sport, unveiled two weeks ago at the Paris Motor Show, is the first in the automaker's Discovery family. This is the beginning of Land Rover's product offensive, for which it is expecting to make 50 merchandise actions over the next five years.
Newly minted
The Discovery Sport will go on sale in 170 markets early next year.
Production of the model has made an impact on the local economy, with an approximate $322 million investment creating 250 new manufacturing jobs at the automaker's plant. Fifty-five nearby suppliers will also benefit, with about $5.6 billion in contracts awarded.
On Oct. 17, employees of the Halewood facility and local dignitaries watched as the first Discovery Sport came off the production line.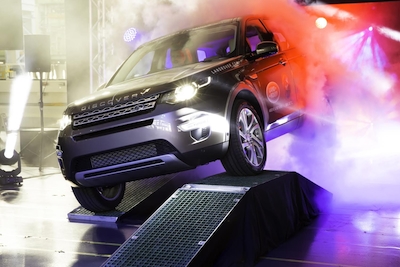 Discovery Sport coming off production line
During the ceremony, the vehicle was handed over to Stephen Attenborough, commercial director for Virgin Galactic. The car will be used daily at Virgin Galactic headquarters, as part of Land Rover's global partnership with the spaceline.
Jaguar Land Rover is drumming up excitement for its recently released Discovery Sport model by giving fans a chance to head into outer space with friends through its partnership with spaceflight company Virgin Galactic.
The Galactic Discovery contest calls for consumers to send in videos through October that demonstrate a spirit of adventure. One winner will get sent with three friends up into space (see story).
Also celebrating the new vehicle, Land Rover unveiled an installation with Italian artist Nino Mustica to bolster its reputation during Frieze Art Fair London.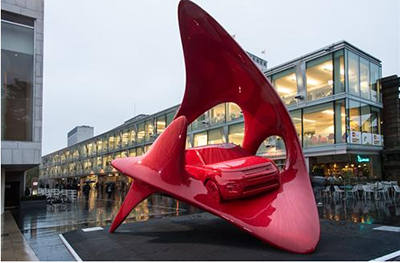 Land Rover sculpture by Nino Mustica
Land Rover enlisted Mr. Mustica to collaborate with the brand's design director Gerry McGovern. "Unstoppable Spirit" includes two sculptures that climb 23 feet into the air. Whether or not attendees intended to stop by the installation, the public nature of the work along the River Thames will likely draw traffic and generate conversation (see story).