Madison Avenue Business Improvement District is hosting Madison Avenue Fashion Heritage Week throughout 16 stores on the famed fashion street in New York to benefit and honor The Museum at Fashion Institute of Technology.
From Mulberry on 57th Street up to Missoni on 78th Street, Madison Avenue Fashion Week will see shop window displays, in-store events, exhibitions and more as the heritage of each brand is portrayed to consumers. Participation from the Madison Avenue brands will increase traffic from locals and tourists, especially through the interactive mobile application.
"The mobile app serves as a guide for taking the walk on Madison Avenue and seeing the windows," said Matthew Bauer, president of Madison Avenue Business Improvement District, New York. "It helps you navigate the different window exhibitions which have been developed for Madison Avenue Heritage Week.
"In addition, [the app] compliments the windows with custom made videos with the designers themselves," he said. "It provides commentary by the Museum at FIT's director on the concept of the heritage and a number of the brands themselves. The app serves as a compliment to the exhibition and if you cannot be on Madison Avenue this week it gives a taste about what the designers are about."
The heritage experience
Hermès, Dolce & Gabbana and Ermenegildo Zegna are among the brands participating in Madison Avenue Business Improvement District's upcoming Fashion Heritage Week.
From Oct. 20-26, the windows of 16 fashion brands' stores on Madison Avenue will be turned into exhibits exploring the heritage of each label. For the brands involved, this will provide an audience to tell their unique story to New York pedestrians (see story).
On the interactive map feature of the mobile app, when a store is clicked upon, consumers can watch a video offering a brief description of brand history.
For example, on the Dolce & Gabbana page, the designers' history is discussed and several images are shown from the brand's past fashion lines. The store's windows on Madison Avenue feature a bookcase with iconic garments from Dolce & Gabbana's archives.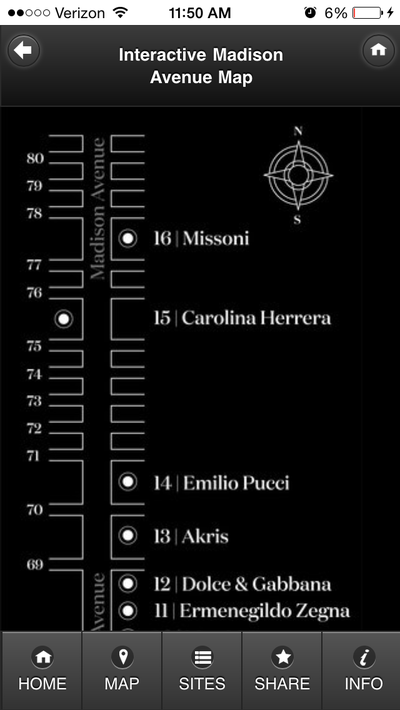 Map in application
The concept of heritage is increasingly important to luxury consumers, and this event aims to provide consumers with an increased knowledge of the brands' history in general and on Madison Avenue.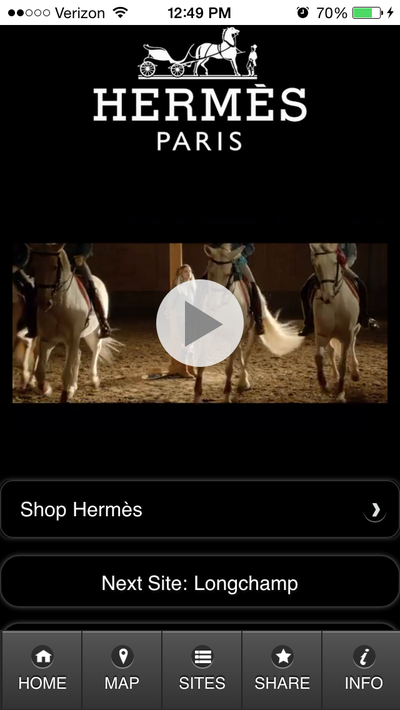 Hermès page on app
The Museum at FIT is dedicated to the art of fashion, and by having brands dedicate this week to their own histories, the purpose and goals of the museum will be highlighted.
"What brings folks to Madison Avenue is to experience these great brands and for any client to learn more about their stories," Mr. Bauer said. "[Consumers] get a better understanding of the artisanship and creativity that is paramount to the development of fashion in boutiques.
"The event also really provides an opportunity to learn more about the Museum at FIT. Which is important for existing clients and those learning about the fashion world," he said. "What a great way to learn, not only from the windows on Madison Avenue, but also the event at FIT."
As noted by New York Mayor Bill de Blasio in a statement, Madison Avenue Heritage week is Oct. 20-26 and celebrates the over 900 fashion companies and over 180,000 fashion workers in the city.
The week is being celebrated on social media through the hashtag #MadisonAveFHW.
Heritage focus
Brands focus on their heritage all the time in various campaigns.
For instance, department store chain Saks Fifth Avenue updated its touchpoints with the launch of redesigned packaging, a traveling personal shopping service and an updated, editorial-focused concept for its catalog.
Saks' men's and women's wear catalogs, in homes Sept. 3, now features news about new brands and emerging trends in the front of the book, much like a magazine. Saks' "heritage of pairing fashion and glamour with unique experiences" is placed at the forefront of these modernizations, allowing the retailer to evolve without losing its image (see story).
Also, French outerwear label Moncler put glaciers front and center with a traveling photography exhibit and capsule collection.
Moncler's "Blackout" project featured 21 images of mountain terrain in Iceland captured by artist Dan Holdsworth, one of which Moncler reproduced on jackets, pants and accessories in its fall/winter 2014 collection. This collection allowed Moncler to pay homage to the "majesty of nature," which is a source of inspiration for the brand (see story).
"It provides a way to give back to the community and create a vibrant streetscape with interesting displays that engage the public," Mr. Bauer said. "This particular scene of fashion heritage creates a true experience of walking up and down Madison Avenue and learning. It is a gesture to the public to learn more about what makes Madison Avenue tick."
Final Take
Nancy Buckley, editorial assistant on Luxury Daily, New York