Italian automaker Maserati is bringing its centennial celebration to the United States to build more brand unity.
The tour will stop in key U.S. cities and the brand expects more than 100 owners to attend each rally. Branded events often act as the glue that holds consumers loyal to a brand, especially when the events attract like-minded people who can share their passion.
"Driving events definitely bring in brand loyalty," said Lauren Fix, automotive expert, Lancaster, NY. "Driving events have been around for many years, as a result they have brought in car enthusiasts as well as conquest customers from other similar brands.
"The key is to showcase the cars' capabilities and educate drivers to be safer on the street and on the track as well," she said. "It creates better drivers all the way around!"
Ms. Fix is not affiliated with Maserati, but agreed to comment as an industry expert.
Maserati did not respond by press deadline.
Long march
Maserati furthered its centennial celebration by traveling to historic landmarks in the brand's history.
From Sept. 18-20, consumers followed the brand on social media and through a dedicated microsite to see where the festivities went next. Hosting a physical event with digital extension helped Maserati involve both locals and a larger fan base in the milestone (see story).
Now, the automaker is shifting its focus to the U.S., where it will host similar driving events to excite owners and enthusiasts.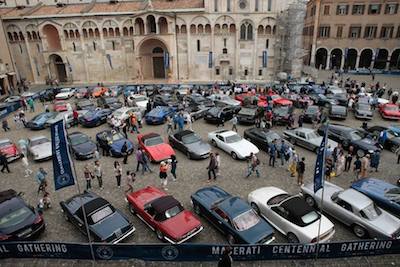 Maserati in Modena, Italy
Beginning on Nov. 1, Maserati will be traversing the country, making four pit stops in Washington, Miami, Los Angeles and Chicago.
At each event the brand will be showcasing historic vehicles and will create an environment reflective of the 100-year achievement.
Each location will center on a driving route that will include a historic bridge or landmark that when passed will symbolize the brand's transition into a new century, "bridging a century of manufacturing to life."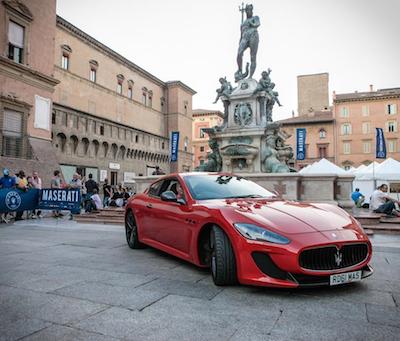 Maserati Centennial tour
The events will culminate in exclusive receptions where participants can get to know one another and indulge in Maserati heritage.
The Washington event will end at the Italian Embassy, Miami guests will travel to the Miami International Auto Show, Los Angeles guests will head to the Los Angeles Motor show and the tour will finally conclude at the Teatro Regio in Chicago for an opera performance.
Coming together
Driving tours are common among auto brands looking to reach out to owners and promote solidarity. Oftentimes the tours revolve around a luxury weekend.
For instance, British automaker Bentley Motors expanded its driving tours with new locations and partnerships to draw new consumers and treat Bentley loyalists to curated experiences.
The tours travel through Britain, Italy, France and parts of the United States and link up with luxury partners such as Chanel and Harrods. Providing customers with experiences that situate a brand in the larger context of luxury while demonstrating the best of what showcased products can accomplish enables automakers to cultivate loyalists (see story).
At other times, consumers sit back and assume the role of spectator during industry-wide events.
For instance, Maserati, Bugatti, Ferrari and other auto brands participated in the historic Mille Miglia race May 15-18 that limits participants to models made before 1957.
The Mille Miglia race transports auto enthusiasts to the early days of racing when manufacturers were designing some of the essential components currently used. The race also allows automakers to build up their credentials in the eyes of discerning customers (see story).
Final Take
Joe McCarthy, staff writer on Luxury Daily, New York