Italian fashion house Dolce & Gabbana is continuing its support of UNICEF's work with children in need in the Darfur region of Sudan.
For the third year, Dolce & Gabbana and other fashion houses, such as Christian Dior and Chanel, are joining UNICEF for the Frimousses de Creatures project to raise funds for the children of the Darfur. Each year the brands work to create a doll that aligns with a specific theme, which is then auctioned off to benefit UNICEF.
Dolled up for a cause
The theme for the 2014 Frimousses de Creatures is Opera and celebrates both musical and creative art forms.
Dolce & Gabbana shared its participation and an image of the one-of-a-kind doll created by Domenico Dolce and Stefano Gabbana on its social media pages with a link to its digital magazine, Swide.
On Swide, the brand describes the doll, named Violetta, as being inspired by the main character is Verdi's "La Traviata" opera. The doll is styled in 19th-century garb, which includes an evening dress fashioned with black lace and a red stain belt as well as a crystal brooch.
To be recognizable among Dolce & Gabbana's dedicated enthusiasts, the designers included a piece of the house's classic jewelry, a gold cross with black stones. Violetta is made of resin and her face was painted by hand.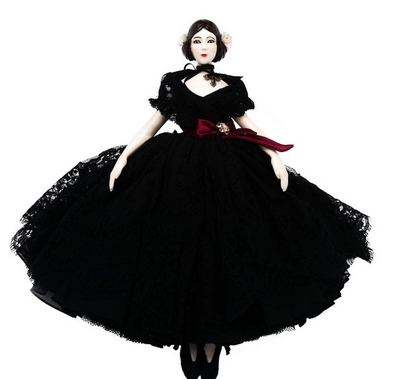 Dolce & Gabbana's Violetta doll for Unicef
During an auction on Nov. 24 at the Theatre du Chatelet in Paris, UNICEF and its branded partners will auction off the lot of one-off dolls and artwork. A public viewing will be held in the days leading to the auction, Nov. 18-23.
Additional dolls include the Chanel "Paris Byzantium" designed by Karl Lagerfeld, Christian Lacroix's "Lucrezia Borgia," Elie Saab's "Rose," Gucci's "Papageno" and Dior's "Olga."
For the 2013 edition of Frimousses des Creatures, the auction generated approximately $230,000 for UNICEF and the children of Darfur.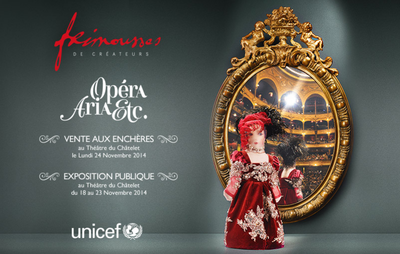 Frimousses de Creatures by Unicef with Christian Lacroix's Lucrezia Borgia doll
Dolls in high-fashion recall a sense of nostalgia among consumers.
For instance, Italian apparel and accessories label Bottega Veneta looked to a Hasbro doll to model its spring/summer 2014 collection in its window displays to stand out from other storefronts.
The life-size mannequin versions of Blythe, a doll with a large head and wide eyes, was revealed in the windows of select Bottega Veneta boutiques over a few weeks. Since Blythe has been around for multiple generations, Bottega Veneta was able to connect with consumers of varying ages who likely recognized the doll and were reminded of their childhood (see story).