French apparel and accessories house Chloé is creating a pop-up shop in the London gallery, Studio Voltaire.
The biennial pop-up shop sells limited-edition and original pieces by contemporary artists and this year it is supported by Chloé. As the first major partner for Studio Voltaire's House of Voltaire pop-up, Chloé will likely gain attention within the shop and online through its collaboration with Net-A-Porter to sell the limited-edition pieces.
"The house of Chloé has experienced unprecedented success in recent years, in part by artistically evolving while remaining true to its romantic, chic, feminine character," said Christine Ferrell, marketing director for the Global Luxury Management program at NC State University's Jenkins Graduate School of Management, Raleigh, NC.
"The extension of the Chloé line through Net-A-Porter not only broadens the distribution from the London-based pop up, but is also a nod to the past when Chloé's founders aimed to offer couture-quality fashion off the rack," she said.
Ms. Ferrell is not affiliated with Chloé, but agreed to comment as an industry expert.
Chloé was unable to comment by press deadline.
Creative thought
Chloé's creative director Claire Waight Keller is the one who pushed this initiative forward. She chose three female artists to work for the brand on limited-edition pieces for the pop-up shop.
All the items sold by Chloé within the shop have "Chloé, The Beautiful Is Always Strange" written on the labels.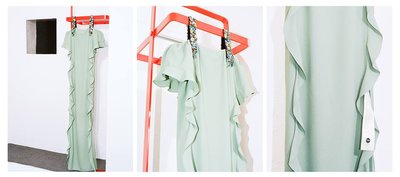 Cao Fei's designs
Ms. Waight Keller said in a branded statement, "Choosing female artists from around the world to participate connects the concept with the Maison, as Chloé has always had a very close and emotional connection with women. We are thrilled to be sponsoring this year's House of Voltaire."
Cao Fei, one of the female artists, created a series of pieces that were customized with stories of everyday women printed on the garment labels. These tales are about the disconnect between reality and dreams in life.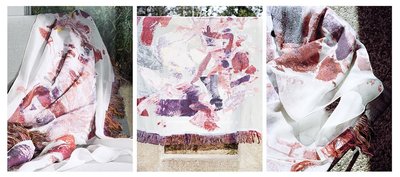 Jenny Sayville's designs
Another artist, Karen Killimnik, created a set of tops and shorts. Jenny Saville, the final artist, crafted a scarf inspired by the leftover swatches from her studio.
These items are in the House of Voltaire along with products from several other artists. Chloé's pieces are available on Net-A-Porter's ecommerce page for the brand.
Chloé's House of Voltaire pop-up shop will be open until Dec. 20.
Pop-up, plop down
The creation of a pop-up shop can bring attention to a certain collection or concept for brands, especially when the location of the pop-up gains attention through other means.
For instance, Italian fashion brand Prada hosted a takeover of London department store Harrods through the month of May.
The in-store experience included a pop-up shop, an exhibit, a café and window displays that educated consumers about the brand's connection to art and pop culture. Through these displays across the store, Harrods was able to bring Italy into its doors and Prada spread awareness for its history and cultural projects (see story).
Having art related campaigns allows brands to bring attention to the artistry behind collections.
For example, Italian apparel and accessories brand Bottega Veneta is celebrating the completion of another "Art of Collaboration" campaign.
The cruise 2014/2015 campaign was shot by photographer Ryan McGinley. The ongoing campaign sees a different photographer for each season's collections, creating another reason for consumers to check back for the new season's looks (see story).
When fashion brands collaborate with artists they are aligning themselves with the craftsmanship behind fashion.
"Great art often comes together -- and that is the case with Chloe's support of Studio Voltaire's biennial pop-up shop, House of Voltaire," Ms. Ferrell said. "For two decades, Studio Voltaire has given emerging artists a space for creating and displaying their craft, in much the same way that Jacques Lenoir and Gaby Aghion broke with typical 1950s fashion upon introducing Chloe."
Final Take
Nancy Buckley, editorial assistant on Luxury Daily, New York