French jeweler Cartier is bringing a showcase of standout pieces to the Denver Art Museum Nov. 16 through March 15.
The Cartier Collection includes more than 250 historical designs created between 1900 and 1975 and 72 archival documents, as well as loaned pieces created by the jeweler. Though Denver may seem like a far-flung locale, the proximity to the wealthy community of Aspen, CO, is likely to generate buzz as residents and travelers head to the nearby ski slopes.
Mountains of jewels
Cartier's "Brilliant: Cartier in the 20th Century" opened on Nov. 16 at the Denver Art Museum. Leading up to the opening, the jeweler shared the exhibit's poster and a link to learn more on social media on Nov. 9.
The provided link lands on a dedicated Web site titled "Brilliant in Denver." Here, the consumer can purchase general admission tickets or VIP passes available only when booked through a nearby hotel.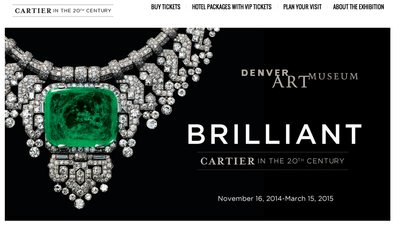 Denver Art Musuem's Web site for the Cartier exhibit
Hotels participating in the VIP pass offer for Brilliant in Denver include Ritz-Carlton, Four Seasons and Hilton-owned properties. Guests who book the Ritz-Carlton package, for example, will receive two passes to the exhibit, breakfast and a Cartier keepsake on arrival.
The site also includes a "more things to do in Denver" travel guide and lists the museum exhibit's partners. Here, the consumer can also view four standout pieces from the museum collection: the stomacher brooch; the Egyptian striking clock; the flamingo brooch and the crocodile necklace.
Days later, on Nov. 17, Cartier sent its email list a blast regarding the Denver Art Museum's presentation. Instead of leading to the dedicated site like it did on social media, Cartier used its own Web page as the landing.
In Paris, Cartier hosted a retrospective exhibit at the Grand Palais that looked back at the jewelers creations between 1847 and the mid-1970s. Organizing a museum exhibition that showcases heritage helps enthusiasts better understand the brand while highlighting a brand's accomplishments for unfamiliar attendees (see story).