For the third consecutive year, luxury conglomerate Kering is using social media to combat violence against women by sharing a white ribbon via Twitter.
The initiative in its original form was started in 1991 as a male-led campaign and became highly active in North America, Australia and the United Kingdom. Since Nov. 15, Stella McCartney-designed white ribbons have been distributed to more than 700 boutiques operated by Kering brands.
Together for a cause
The White Ribbon campaign is a part of Kering's larger initiative by the Kering Foundation, which consistently works to end violence toward women. By investing in a cause year-round, Kering is able to make more of a difference, and prove its commitment to the cause (see story).

Kering's White Ribbon banner for Facebook
Participating brands for the White Ribbon campaign include Gucci, Bottega Veneta, Balenciaga, Stella McCartney, Alexander McQueen and its offshoot MCQ, Brioni and Tomas Maier. The physical ribbon available in the aforementioned brand boutiques is made of materials with low environmental impact.
For 2015, Kering partnered with publishing house Condé Nast Media Group for extra support and a platform to increase visibility of its efforts.
On Twitter and Facebook, individuals can wear a virtual white ribbon in support of ending violence against women by adding an icon to their profile on Twibbon.com. By adding the ribbon to his or her profile picture, consumers will show solidarity with the cause while raising awareness for International Day for the Elimination of Violence Against Women on Nov. 25.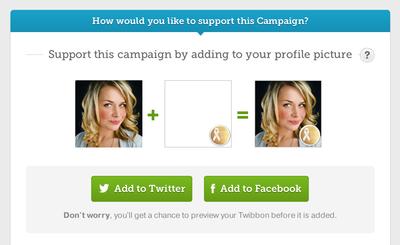 Twibbon Web site for Kering's White Ribbon effort
As of press time, 1,982 consumers have added the ribbon to their profile picture.