Porsche Cars North America has extended its alliance with actor Patrick Dempsey for the 2015 racing season.
In the upcoming year, the actor will tackle the Sports Car World Endurance Championship WEC, including Le Mans 24-hour race, in a Porsche 911 RSR. Having a famous face in the driver seat of its cars allows Porsche to build awareness, while letting Mr. Dempsey show a different side of himself.
Racing family
Mr. Dempsey has been a part of Porsche's motorsport team since 2013. He has been a fan of the brand since childhood, watching the automaker take home trophies at various races.
In addition to the WEC races, the actor will make appearances at Porsche's brand trophy series, including the Porsche Mobil 1 Supercup.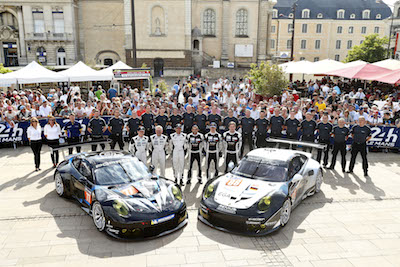 Porsche 911 RSR, Dempsey Racing Proton at Le Mans 2014
In a branded statement, Bernhard Maier, Porsche AG board member for sales and marketing at Porsche, said, "We look forward to an exciting 2015 season with Patrick Dempsey and to the continuation of our successful partnership. Before he drove his first race with Porsche the world knew him primarily as an actor.
"Over the last two years we've come to know him as a passionate race driver who embodies the professionalism and amiability that makes the Porsche motorsport family what it is. Now we are full of anticipation for more successes together."
This year, Porsche returned to Le Mans 24 Hours race after a 16-year leave and hyped up its mission with an extensive digital campaign.
The automaker's pursuit of a victory at Le Mans 24 Hours race has called for a start-from-scratch approach, and the brand is eager to share that journey (see story).
As part of the campaign, the brand looked to maximize awareness with a video featuring Porsche driver and actor Patrick Dempsey explaining his passion for racing.