Bentley Motors is spinning its Power on Ice event this year with a philanthropic addition that allows consumers to enter to win a spot at the driving experience.
With a small donation to Care2Save, a charitable trust that raises money for a local hospice, consumers will have the chance to join the annual Bentley experience. Teaming with a local charity deepens Bentley's roots in England and drives attention to the annual events by letting more consumers and fans take part in the affair.
"It seems to be a fairly obscure prize," said Rob Frankel, branding expert at marketing consultancy firm Frankel & Anderson, Los Angeles. "Prizes usually have to balance between self-serving interest and the public's desire for the prize."
Mr. Frankel is not affiliated with Bentley, but agreed to comment as an industry expert.
Bentley was unable to comment directly.
Charitable efforts
In June, Bentley opened up registration for its 2015 Power on Ice program in northern Finland.
The Power on Ice series allows loyalists to test the capabilities of Bentley models in icy conditions and to receive a holistic brand experience while lodging for four days in a luxury setting. As auto brands continue to close performance gaps, the experiences provided in events like this will become a major differentiating point (see story).
On the edge of the Arctic Circle, participants will have the opportunity to drive Bentley vehicles in arctic conditions, and for the first time the Continental GT3-R will be tested on ice.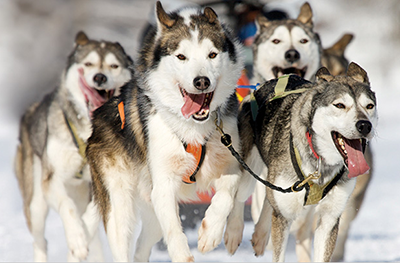 Guests go on huskey sled rides during the program
From Dec. 1 until Jan. 8, consumers will be encouraged to enter the competition to win two spaces at Power on Ice. To enter, a donation must be given to Care2Save.
One entry is $1.57, but those who want to submit their name several times can donate more to the cause.
Care2Save raises money for St. Luke's Hospice in Cheshire, close to Crewe, the home of Bentley. The automaker has previously teamed with the hospice to help revamp a bus on behalf of St. Luke's and many Bentley employees volunteer at the hospice.
In a branded statement, Marlies Rogait, Bentley's member of the board for human resources said, "Bentley has been a long-term supporter of St Luke's, valuing its contribution to the local community and the important role it plays in caring not only for Bentley employees and their families, but the wider community as well. We look forward to working with Care2Save more and supporting the invaluable work it does to help hospices around the world."
Care2Save is an online shopping platform that allows the consumer to purchase an item where 100 percent of the proceeds goes to charity.
All inclusive
Luxury brands typically hold strong influences in their home cities and countries and can therefore present themselves as chief contenders to lead social change through philanthropy. Reaching out to foundations, historical landmarks and people in need can create a positive aura around a brand and help the brands connect with their roots and impact local communities (see story).
Charitable efforts by brands can allow aspirational consumers to participate and feel included.
For example, U.S. jewelry brand David Yurman is looking to engage consumers through Vogue's mobile Web site with several advertisements for its Venetian Quatrefoil collection.
This season David Yurman is encouraging consumers to create wish lists online and in-store for the brand to donate money to the Children's Miracle Network Hospitals. By creating mobile ads that lead consumers to an ecommerce page, the brand will likely see increased wish lists from Vogue.com readers (see story).
Looking at charities can bring attention to campaigns, but may also may take away from the brand's event.
"Cause marketing rarely, if ever, works to do much more than distract the public from the brand," Mr. Frankel said.
Final Take
Nancy Buckley, editorial assistant on Luxury Daily, New York