French atelier Christian Dior is expanding on its traditional presentation schedule with the introduction of the Esprit Dior collection.
The Esprit Dior collection will show for the first time Dec. 11 in Tokyo, where the house currently has a retrospective exhibit of the same name. Although Japan's economy is nearing a recession, luxury brands are still engaging with Japanese consumers.
Tokyo takeover
Dior's Esprit Dior exhibit recounts the fashion house's heritage from 1947 to present day under the direction of creative director Raf Simons (see story).
For the runway show on Dec. 11, Mr. Simons will present his first Esprit Dior collection. Like many of the house's collections and works, Mr. Simons' presentation will be a reinterpretation of the brand's eponymous founder's ideology.
Until the showing, Dior is encouraging its enthusiasts to follow its adventure to Tokyo on its Instagram feed.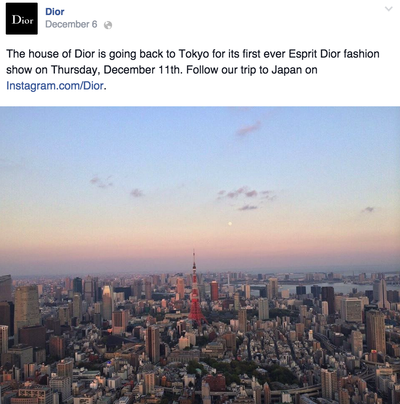 Follow Dior on Instagram for update leading to Dec. 11
Also, Dior posted a short social video that acts as a placeholder until the Esprit Dior runway show. The video shows a red Miss Dior handbag twirling in place before tipping over to roll out a red carpet from its zipper.
Next a line of paper mannequins holding mini Miss Dior handbags, wearing hats and the Bar jacket walk out of the bag. The various sized paper mannequins are made from origami, linking the promotion back to Esprit Dior's host country of Japan.