Several luxury automakers are hosting winter driving events this season to interact with consumers and expose their vehicles in tough driving conditions.
The events this winter may bring consumers an insight into the features of the vehicles. Luxury automakers host winter driving events for consumers to demonstrate the control their vehicles maintain when in bad driving conditions, but the large number of brands hosting such events may minimize their efforts.
"These kind of campaigns benefit the brands or marques by adding a layer of high-touch customer service, experience, engagement and, if the experience was enjoyable, help increase all-important brand loyalty," said Bob Prosser, CEO of Auto World Marketing Corp, San Diego.
"However, there is another reason it benefits the brand and the company behind it: it helps to reduce the potential for liability lawsuits against them," he said.
Cars on ice
Maserati's event is a winter tour that demonstrates the Maserati Ghibli and Quattroporte S Q4 in tough conditions. Consumers will see the "on demand" all-wheel drive system.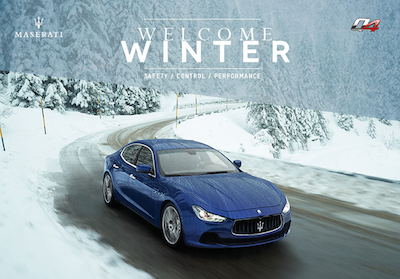 Maserati winter experience
The tour reaches ski resorts all over Europe starting with Cortina d'Ampezzo in Italy Dec. 6, and the final date is March 7 at the Megeve & La Caleche in France. The Maserati enthusiast will be able to find an event in six different countries.
"The concept behind the Maserati Winter Tour is that Maserati goes where its clients go.," said Giulio Pastore, general manager Maserati Europe. "So we try to be present in those Winter locations where our clients choose to spend their holidays. Mountain resorts are also the ideal scenario to showcase our Q4 range, fitted with all-wheel drive technology.
"Maserati clients and those who are interested in the brand can test drive our cars, and also be invited to exclusive events, which include skiing master classes with Giorgio Rocca, former Slalom World Champion and test drives with former World Rally Champion (Group N) Alex Fiorio," he said.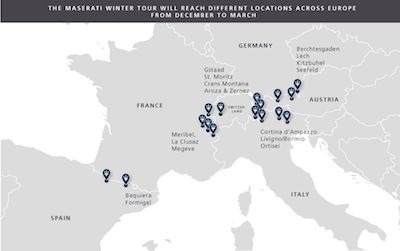 Maserati locations
In June, Bentley Motors opened up registration for its 2015 Power on Ice program in northern Finland.
The Power on Ice series allows loyalists to test the capabilities of Bentley models in icy conditions and to receive a holistic brand experience while lodging for four days in a luxury setting. As auto brands continue to close performance gaps, the experiences provided in events like this will become a major differentiating point (see story).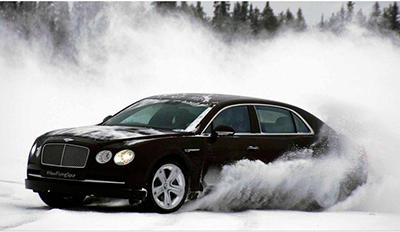 Bentley on Ice
Lamborghini has hosted its Winter Accademia in Europe, but this year the automaker is extending the program to North America with a program in Aspen, CO.
The event in Aspen will let participants practice emergency braking, drifting skills and full-lap road course driving methods. The program in Italy is similar with small groups and coaching so drivers learn the techniques necessary.
Mercedes-Benz is presenting an event every day between Dec. 27 and Feb. 22 in Kitzbühel, Austria. These days will let consumers experience the recedes off-road vehicles.
"Half of the country experiences winter, offering the best vehicle in winter or safety and technology improve safety and traction as well's handling is definitely an incentive for consumers to purchase that vehicle over manufactures in the luxury segment that don't bring attention to their assets," said Lauren Fix, automotive expert and author of "Lauren Fix's Guide to Loving Your Car," Lancaster, NY.
"Offering a winter driving option is a genius move on any manufacturer who's looking to increase sales during the cold winter months," she said.
Every event is presented in a similar manner to consumers through social media and the automakers' events pages on their respective Web sites.
The events all hold the same goals in that they are hoping the consumer will experience the vehicle in rough conditions and be enticed to purchase the car, or another car from the automaker.
"Today's highline luxury and exotic automobiles are much more powerful when compared to similar models from previous decades," Mr. Prosser said. "With this in mind, it's not surprising to read often that overconfident and inexperienced new owners of such powerful cars are crashing — often totaling — their cars within the first week.
"Thanks to the latest in engineering and safety equipment, people often survive such accidents," he said. "Unfortunately this is not always the case. Even though these new vehicles have all sorts of electronic traction control and safety measures built into the running gear, the driver is ultimately responsible for what happens.
"This is why these 'tours,' 'academia programs,' 'driving experience schools,' etc, are designed to help introduce the drivers to their car's characteristics — to understand the car's power delivery, brakes and handling and how to drive it correctly through the seasons."
Engagement outside showroom
Luxury automakers stage wintry events to show off the control of their vehicles, but throughout the year driving events and tours present occasions to draw new consumers and solidify loyalties.
Many luxury brands have some sort of "On Ice" event where guests test a automobile's capacity on an icy surface, and scattered throughout the year are a number of seasonal events that display global reach. Whether brands are hosting one-time racing excursions, multiple-session classes or immersive experiences, driving events are crucial for cultivating brand advocates (see story).
Final Take
Nancy Buckley, editorial assistant on Luxury Daily, New York