French department store chain Printemps is celebrating the savoir-faire of fellow French brand Longchamp through a pop-up shop Jan. 20 through March 10.
To introduce the looks and pieces for the spring/summer 2015 season, Printemps has created the "Accessories Special" event that includes an 11 pane window series and the Longchamp pop-up held in the atrium of the retailer's boulevard Haussmann flagship. Hosting a pop-up shop while consumers transition their wardrobes for the new season is likely to increase foot traffic in a department store after the holidays.
Guest of honor
For the Printemps atrium pop-up, Longchamp has created a number of exclusive colors for its iconic handbag lines. For the Le Pliage Cuir handbag, Longchamp is introducing new colors Ecru, Fox, Midnight and Cassis.
Longchamp will also offer variations of its Le Pliage Heritage handbag in two tricolor and three plain medium sized editions, exclusively for Printemps. All handbags at the pop-up will be made of leather to underscore the brand's savoir-faire.
Consumers who visit the pop-up can experience the Longchamp "workshop" where craftsman will be creating leather passport covers, customized key rings and embossing monograms onto handbags purchased in-store.
Also, consumers are encouraged to create a bespoke Longchamp handbag within Printemps with the help of an interactive personalizing service. Handbags ordered will be created in Longchamp's workshop and will be sent to consumers within three weeks.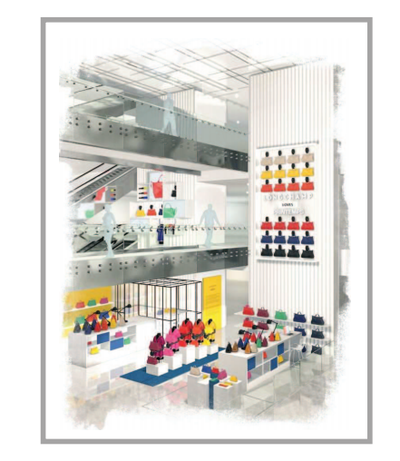 Rendering of the Longchamp pop-up store in Printemps' atrium
Printemps' atrium has held other pop-up shops recently. For instance, Parisian fashion label Kenzo created an interactive experience for its pop-up in the atrium of French department store Printemps' Haussmann flagship.
Kenzo Loves Printemps, the brand's first mobile app, let consumers browse through the collection of exclusives created for the pop-up, as well as enter a contest through an interactive game. Providing a digital tie-in to the physical retail environment likely helped get consumers actively engaging with the brand on mobile (see story).