Niche perfume house Fragrance Du Bois honored women in the Middle East by participating as a sponsor for the Arab Women Awards 2014.
Held in Dubai, United Arab Emirates, the Arab Women Awards honors women in the Middle East who have made a positive impact on society. Involvement in humanitarian causes that align with core consumers can strengthen the relationship a brand has with the public.
Girl power
Held annually, the Arab Women Awards celebrates the achievements of women in the Middle East. To date, the awards has honored more than 500 women and provided role models for young Middle Eastern and Arab girls around the world.
Fragrance Du Bois acted as the sponsor for the 2014 event held in the UAE under the patronage of His Excellency Sheikh Nahyan Bin Mubarak Al Nahyan.
During the event, which Fragrance Du Bois also acted as presenter, the perfumer awarded oud-based fragrances to a number of women at the ceremony. By doing so, Fragrance Du Bois increased its awareness among attendees and cemented its position amongst the influencers who will shape the modern world.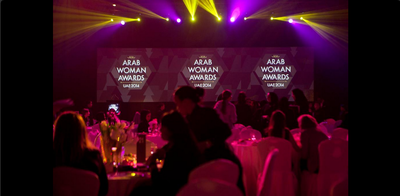 Arab Women Awards held in Dubai, UAE Dec. 10
For example, Fragrance Du Bois presented a special fragrance set to Dr. Shaikha Al Maskari, who received the Businesswoman of the Year award, for her contributions to society.
Emma Henry, director of Fragrance Du Bois Middle East, said in a statement that, "Fragrance Du Bois is privileged to be a part of the foremost awards that recognize women of the Arab world who have not only inspired other women, but other individuals to succeed and fulfill their dreams, while also playing a positive role in contributing to the world in their chosen fields."
During the ceremony, Ms. Henry presented the first female Middle Eastern Olympic athlete, Emirati weightlifter Khadijah Mohammed with the Sporting award for 2014.
Fragrance, in general, plays an important role in the culture of the Middle East. Marketers have taken note of this.
For example, LVMH-owned luxury travel retailer Duty Free Shopping Group kicked off a series of global events with the inaugural Masters of Fragrance showcase in the capital city of the United Arab Emirates to celebrate the Middle Eastern region's history of fragrance with a modern twist (see story).