Global cruise line Cunard is feting its 175th anniversary with a series of onboard events pointing to its history.
From retracing the original transatlantic crossing to remembering the sinking of the Lusitania, Cunard is involving consumers in both the highs and lows of its heritage through special packages and online content. Commemorating a milestone can help prompt booking from loyal travelers, who want to experience the special time with their favorite brand.
"Cunard Line is unique in that it has a 175-year heritage and pedigree that only a few companies today share," said Rick Meadows, president of Cunard Line North America, Seattle.
"Cunard Line contributed significantly to world history from being the first company to bring mail to North America from England, to the contribution in the U.S. immigration movement and to creating many industry firsts in the cruise industry and significantly shaping what is today the modern luxury cruise experience," he said. "Cunard also has a storied history of sailing notables, from heads of state and royalty to iconic Hollywood actors from yesterday like Elizabeth Taylor and Clark Gable to modern day celebrities such as Tilda Swinton and Wes Anderson.
"The 175thAnniversary is a celebration of Cunard's iconic past and contribution to the world we live in today, and it is a moment worth celebrating."
Sailing away
To get the word out about its anniversary and special offers, Cunard ran an advertisement on travel publication Departures' Web site, visible on both tablet and smartphone. The ad shows couple dressed in evening attire on board a ship with the headline "Our birthday. Your present"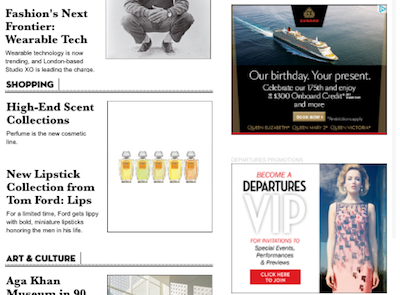 Cunard ad on Departures mobile site
Consumers are invited to "discover more" about the cruise line's Grills Suites inclusive package.
For the anniversary, consumers are entitled to a free upgrade to a double balcony on European trips when an obstructed balcony room is booked. Also included in the celebration package is a reduced deposit fee and up to $300 onboard credit per stateroom.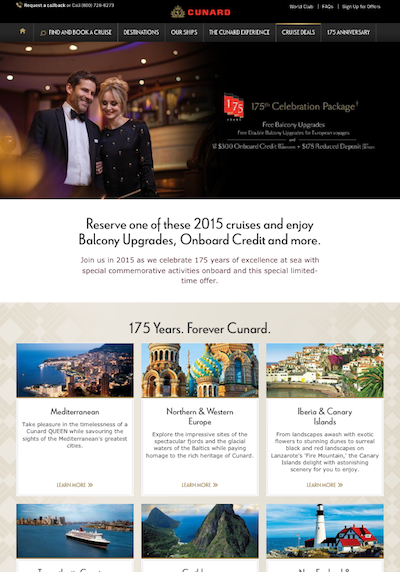 Landing page
Featured trips for the occasion include journeys to Iberia and the Canary Islands and a tour of the Mediterranean, among others.
"Departures is a unique outlet as it speaks to an audience that cares about luxury, craftsmanship and authenticity and is designed for American Express Platinum and Centurion members," Mr. Meadows said. "The relationship between Cunard Line and American Express dates back to 1922 when together the companies launched the first World Cruise on the Laconia.
"In addition to the historic ties between our two companies, the readers of Departures are much like Cunarders, in that they are discerning, well-traveled individuals with an appreciation for unique luxury experiences," he said.
Cunard is also educating consumers about the milestones in its history with a set of social videos housed on its Web site and YouTube channel. In one animated video, a timeline ticks off its achievement of having the first steel with electric light at sea, the first wireless transmission in the ocean and the first around the world cruise.
The video also recounts the part that Cunard ships played in World War I and II.
175 Years. Forever Cunard – A Voyage Through History
Other films show the fleet in present day, including all of services and dining onboard.
A film is dedicated to the Lusitania, which sank 100 years ago from a German U-boat torpedo while passengers and crew were onboard. About 800 were rescued, but many were not. Cunard refers to the event as "the single most tragic event in our history."
To honor the cruise ship, Cunard is offering a trip from May 3-10 on board the Queen Victoria, which will travel from Southampton and stop in Cobh, where the memorial for the Lusitania is located near to where the ship sank. Here, there will be events to remember the tragedy.
On May 25, the Queen Mary 2, Queen Victoria and Queen Elizabeth will meet in Liverpool during three different routes, the city that was Cunard's home base from its founding until 1967.

Rendering of Queen Mary 2 in Liverpool
The kick off for the 175th anniversary is a transatlantic crossing of the Queen Mary 2 in July, remembering the first two-week crossing of the Brittania in 1840. Aboard the ship, guests will attend gala dinners and special events ashore as they travel to New York from Southampton, stopping over in Liverpool, Halifax and Boston.
On social media, Cunard has been sharing vintage photos from its archives, showing men working out in a gym in 1916 and a couple dancing in an onboard ballroom in 1931.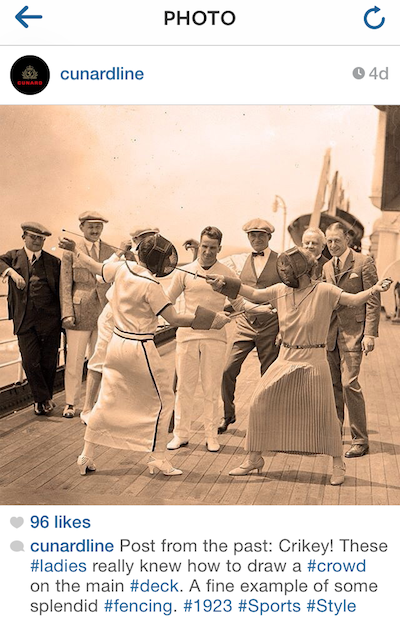 Instagram post from Cunard
Time lapse
Hotel properties commonly host special events to commemorate important anniversaries, involving their guests in the celebration.
Peninsula Hotel Hong Kong celebrated its 85th anniversary Dec. 11 with a gala evening that featured work from Hong Kong artist Lee Chi Ching.
The celebration was imbued with additional significance because the property completed a $58 million room enhancement project earlier in the year. Anniversary celebrations not only impart a sense of credibility, but also provide hotels with a jumping-off point for numerous campaigns (see story).
Also, Fairmont Hotels and Resorts is seeking to rejuvenate its North American properties with various anniversary celebrations.
The celebrations range from museum-like commemorations and pop-up restaurants to surprise gifts and casino excursions. Although it may seem that concurrent anniversaries erase the rarity they are meant to convey, the brand prevented events from overlapping (see story).
In comparison, some of Cunard's events overlap in order to create more of a celebration of heritage and the cruise lines in its entirety.
"There are several special voyages and celebrations planned for the 175th which specifically commemorate the heritage of the brand," Mr. Meadows said. "Cunard's Queen Victoria will be commemorating the 100th Anniversary of the sinking of the Lusitania, while Queen Mary 2 will be recreating the original Transatlantic Crossing made by the Britannia in 1840.
"In addition to celebrations in Halifax, Boston and New York during this special Transatlantic Crossing, Cunard will also be organizing a once-in-a-lifetime royal rendezvous of the three Queens in Liverpool, the spiritual birthplace of the brand, on May 25."
Final Take
Sarah Jones, editorial assistant on Luxury Daily, New York