French luxury association Comité Colbert is hosting a career day to spark interest in the industry in the minds of young adults.
Together with French Ministry of Education, Comité Colbert will host three hands-on experiences days at the Musée des Arts décoratifs in Paris Feb. 3 and 5-6th. The program is inviting more than 700 middle schoolers to experience what the luxury industry has to offer to ensure that the crafts behind many goods remains for future generations.
Luxury of tomorrow
The hope of this initiative is to train the luxury artisans and designers of future by planting the seed in their minds while they are still young.
During the three separate career education days, the Comité Colbert will accompany students around the Musée des Arts décoratifs. While there the students will attend guided museum tours with artisans from Comité Colbert maisons and museum curators.
The events' focus will be on the handcrafts, materials, historical background and career opportunities that luxury has to offer. After the tour portion of the day, the students will visit schools that offer appropriate training for specific luxury crafts.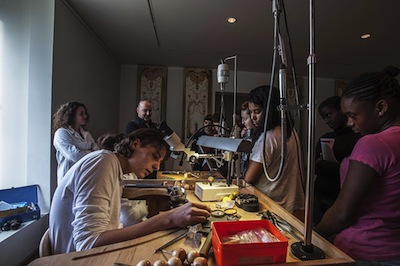 Students at Paris' Ecole Boulle, a public arts school during Comité Colbert 2014 career day
Comité Colbert said in a statement that "the goal is to open up new horizons for the young people, inspire career choices and direct them towards jobs that are stable, respectable and recognized."
Participating Comité Colbert maisons include 14 members and seven luxury businesses including Bonpoint, Chanel, Christian Dior, Hermès, Louis Vuitton, Breguet and Van Cleef & Arpels.
The Comité Colbert was established in 1954 by Jean-Jacques Guerlain, founder of the perfume house of the same name, "to promote the concept of luxury."
For its 60th anniversary, the Comité Colbert's members, 78 luxury houses and 14 cultural institutions, joined together for the Rêver2074 effort, a utopian sci-fi collection of short stories that tells how luxury may be 60 years from today (see story).