Italian jeweler Bulgari is partnering with curators to put on an exhibit dedicated to celebrating classic Italian fashion and culture during the mid-twentieth century.
The exhibit, titled "Bellisima. Italy and High Fashion 1945-1968," is curated by Maria Luisa Frisa, Anna Mattirolo and Stefano Tonchi and explores the interaction of Italian art and fashion during a time when the country was flourishing. Bulgari will also include a selection of its iconic jewelry in the exhibit.
"The exhibition depicts Italian culture from the post-war through the late Sixties," said Orit, president/CEO of The O Group, New York. "It makes sense for the museum to partner with Bulgari, an iconic brand that opened it's doors in 1884, came of age and influence during the period of the exhibition, and epitomizes all that was and remains Italian luxury."
Orit is not affiliated with Bulgari, but agreed to comment as an industry expert.
Bulgari was unable to respond directly by press deadline.
Eternally stylish
The exhibit is at the Museo Nazionale Delle Arti Del XXI Secolo in Rome from Dec. 2, 2014 until May 3, 2015. It is held in partnership with Bulgari, and a selection of one of a kind jewels from the brand will be on display.
"Jewelry and fashion have always been closely linked," The O Group's Orit said. "Culture influences one as much as the other.
"For an exhibition to curate them side by side in the context of a specific place and time will likely bring awareness of Bulgari's history and iconic status to younger consumers," she said. "It will be interesting to see how the curator will balance both strong creative tastes, fashion and jewelry, through Italian eyes."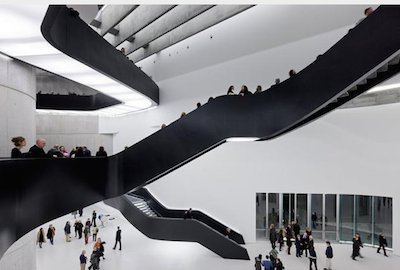 Interior of the MAXXI museum in Rome
There will also be 80 outfits by Italian designers that highlight the magical spirit of the era. It was a period when Italian culture reigned and houses like Fendi, Valentino and Pucci truly reached a peak of creativity and popularity.
Bulgari is an ideal partner for this event. The brand has been responsible for some of the most famous works of Italian jewelry in the past 130 years and has been worn by royals and celebrities around the world.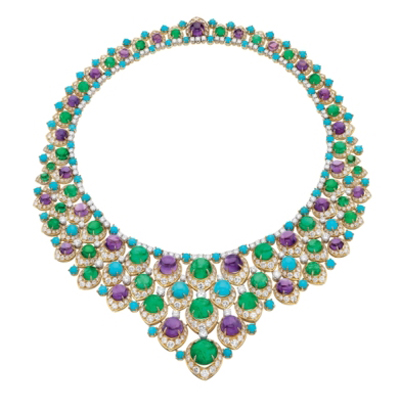 Bulgari "bib" necklace in gold with cabochon emeralds, amethysts, turquoise and diamonds
"Bulgaria is the epitome of luxury and one that grows as innovators join the brand to extend its design aesthetic," said Kimmie Smith, co-founder/creative director of Accessory2, New York. "Although it is not bound by it's foundation of Roman and Greek aesthetic, this is paramount to what it is as a brand."
In addition to the exhibit, a book has been published in collaboration with Altaroma that celebrates the highlights from the collection and the exciting period in Italian history. An installation piece by the architect Maria Giuseppina Grasso Cannizzo will also be on display.
Accessories, such as shoes, hats, handbags and the Bulgari jewelry, will be on display alongside the couture apparel. Brands including Gucci and Ferragamo are especially known for their success during this time.
"Bulgari's influence needs no proof points," The O Group's Orit said. "The brand's jewelry design is distinctive and often imitated.
"Color Color, Color - they were one of the first to show stones in amazing color combinations - oranges, with green and pinks," she said. "The Italians have always appreciated fashion and the use of color, so it's makes sense that an Italian house such as Bulgari would be able to convey it so well in jewelry."
Excellent exhibits
The exhibit is timed perfectly to coincide with the end of Bulgari's anniversary, which it has been promoting all year. The Italian jeweler continued to spread awareness for its ongoing 130th anniversary celebrations with a video series exploring different aspects of its identity earlier in 2014.
Housed on YouTube, rather than a microsite or its primary Web page, Bulgari has shared six videos ranging from its passion for leather goods to the grand opening of a boutique in Rome. Given affluent consumers' rushed schedules, Bulgari relied on short films rather than a full-length documentary to share its message but not bog down its enthusiasts with heavy content (see story).
Other luxury fashion brands have chosen to showcase their history in museum exhibits.
For example, French fashion and accessories house Saint Laurent Paris' founder and longtime designer Yves Saint Laurent is the subject of a retrospective coming to the United Kingdom in July 2015.
The retrospective is a collaboration between the Bowes Museum and the Fondation Pierre Bergé – Yves Saint Laurent, which is run by the designer's former partner Pierre Bergé and promotes his work internationally. It will be the first exhibit of Saint Laurent's work in the U.K. and will feature more than 50 of the designer's most iconic pieces, many of which have never before been shown outside of Paris, allowing new audiences to experience the brand's heritage (see story).
These exhibits have the potential to share a brand's influence with a wide range of observers. It is exciting for brands like Bulgari to have a chance to contribute to their story.
"When an iconic brand decides to partner with an exhibit of this nature that serves as a historical retrospective, it's a great way to also do a bit of storytelling about your brand," Accessory2's Ms. Smith said. "For Bulgari, being able to showcase their story and to show there heritage through their assortment as a house is priceless.
"Seeing that they were established in 1884, it reifies the point that a strong brand with a solid foundation, a nod to the past and an eye towards the future can continue to showcase its dominance and relevance within an ever changing market no matter the trend."
Final Take
Kay Sorin, editorial assistant on Luxury Daily, New York