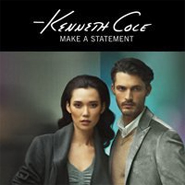 Apparel and accessories designer Kenneth Cole is using his Awearness foundation to boost awareness of the fight against HIV/AIDS through an art exhibition sponsorship.
The art exhibition will promote social awareness for the fight against HIV/AIDS. The increase in designers associating themselves with charities and social causes is the result of a combination of a struggling economy with a new generation of discerning consumers.
"These consumers or future consumers are expecting a brand to stand for something," said Rex Whisman, principal of BrandED Consultants Group, Denver.
Mr. Whisman is not affiliated with Kenneth Cole, but agreed to comment as an industry expert.
Poster Child
Taking place in New York, the exhibit aims to raise awareness about AIDS/HIV on a global scale and highlight visual campaigns from around the world that relate to the cause.
The exhibition comprises 153 posters from many countries that have been used in AIDS/HIV awareness campaigns.
Within this showing are 21 of the Kenneth Cole's own advertisements from 1985 through today that have raised awareness and inspired others to get involved in the fight against AIDS. This includes his first famous service campaign with photographer Annie Leibovitz, "For the Future of Our Children."
The posters will be on display June 7-July 29 and during this time proceeds from AWEARNESS merchandise sold in Kenneth Cole stores and on http://www.kennethcole.com will be donated to support the exhibit.
Opening night will feature a talk with Amr Waked, recently named one of Kenneth Cole's Change Agents for his role as Goodwill Ambassador of the Joint United Nations Program on HIV/AIDS.
Since its inception in 1985, AWEARNESS has spoken out on a variety of social problems such as women's equality and the death penalty.
However, removing the stigma attached with HIV/AIDS infected people and supporting awareness has remained its main focus.
In a recent press conference, Kenneth Cole spoke about his motivation for social change.
Mr. Cole claimed he never had any intention to combine his business and philanthropic work, but that they naturally blended together as he worked to develop a meaningful connection with his consumers.
"I should make an effort [I thought] to promote not just what people look like on the outside, but who they were on the inside," Mr. Cole said during the conference. "Not just what they stood in, but what they stood for."
Lux Cause
Kenneth Cole is not the only luxury designer who aims to make the world a better place.
Stella McCartney is known for supporting a variety of charities for the ethical treatment of animals, including an initiative for "meatless Mondays" in London, and refuses to use leather or fur in her designs.
Tory Burch and Vera Wang took on huge fundraising responsibilities after the disaster in Japan hosting events and creating items whose proceeds benefitted Japan.
Why have so many designers suddenly focused on linking themselves with social causes and charities?
"I think the economy No. 1 is motivating people," Mr. Whisman said. "The reduction of middle class has created a bigger gap between consumers of luxury brands versus other products."
The term luxury on its own is creating a problem for high-end retailers making items sound out of reach, per Mr. Whisman.
"Another factor is younger generations, especially Millennial, are driving this need for brands in all categories, particularly luxury, to stand for something," Mr. Whisman said.
Simply supporting any organization or cause will not help build a brand's reputation.
Brands can get into delicate and sometimes troublesome situations when they align themselves with a political or religious association.
To be successful requires the relevant brand association with a cause.
"Luxury brands must look at their mission and values when considering which causes to support," Mr. Whisman said. "If they don't align with the brand itself, then the connection will seem commercial to today's consumers"
"There is a fine line between meeting the expectations of increased social responsibilities for a brand and not looking like you are just jumping on the bandwagon, putting your resources into whatever social cause is the new 'it' thing," he said.
Final Take
Kayla Hutzler, Editorial Assistant on Luxury Daily, New York