Mandarin Oriental's flagship property Mandarin Oriental, Hong Kong is celebrating its 50th anniversary with a series of events ranging from culinary celebrations to special packages meant to honor loyal guests and inject new energy.
The pinnacle of the celebration occurs Oct. 17 with a red-carpet gala featuring celebrity guests, live entertainment, specialty cocktails and cuisine, video and photography. Milestone anniversaries can provide a launch pad for transformation or usher in a wave of vitality that frames the brand in a new light.
"History and milestone anniversary celebrations are a great way to indoctrinate a luxury brand's story among its loyal guests," said Taylor Rains, account executive at Rawle Murdy Associates, Charleston, SC.
"Brands also have the opportunity to draw former guests back to the property by playing up the history and making them part of that story," he said.
"At the same time, celebrating a property's history is a great way to demonstrate a long-term commitment to quality and luxury to guests of all kinds, not just those loyal to the property."
Mr. Rains is not affiliated with Mandarin Oriental, but agreed to comment as an industry expert.
Mandarin Oriental, Hong Kong did not respond by press deadline.
Golden celebration
Through the rest of the year guests can reserve the Golden Celebration Stay package that includes a $50 spa credit and a special 50th anniversary gift.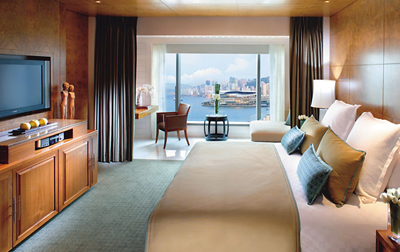 Harbor Room at Mandarin Oriental, Hong Kong
The Fantastic and 50 package promises an Oriental Suite, bottle of Champagne, airport transfer service, Champagne breakfast, a 1963 dinner menu, Golden Sparking Body Treatment, a 1963 port flight and two keepsake engraved sliver tankards.
Foodies will appreciate the return of chef Pierre Gagnaire to his restaurant Pierre to present meals from his 1963 menu Oct. 12-19. The menu is available until Oct. 26 and features a seven-course dinner for $253 and a four-course lunch for $137.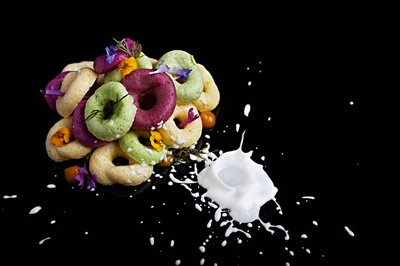 Mandarin Oriental, Hong Kong
Other culinary endeavors include martini expert Alessandro Palazzi spending a week at the Captain's Bar to celebrate the launch of the hotel's new martini glasses and the Clipper Lounge will display an exhibition of classic photographs of the hotel.
A series of "golden" beauty treatments will be open to guests in the Mandarin Spa and Mandarin Salon.
Following the excitement of the red-carpet event Oct. 17, the property will likely see an rise in holiday packages sold.
Happy days
Many luxury brands are celebrating milestone anniversaries this year.
For instance, U.S. label Oscar de la Renta teamed up with The Peninsula Hotels during its 25th anniversary celebrations to provide guests at all of the chain's global properties with an original bathroom amenities collection and unisex fragrance.
The partnership marks the first time that Oscar de la Renta has created a fragrance for another brand. Hotel and fashion brand partnerships such as this allow for a level of mutual benefit unmatched by other partnerships because current Peninsula guests may become consumers of Oscar de la Renta, while the fashion brand's enthusiasts may be inclined to visit the hotel (see st0ry).
Also, Italian automaker Lamborghini is celebrating its 50th anniversary with an iPad application that details the brand's development throughout the decades and provides interactive content.
Users gain a cumulative knowledge of the brand's journey as they slide through the app and then are spurred to start their own journey with Lamborghini. By including different types of content at each stage of the app, the brand will likely be able to engage fans with varying degrees of emotional investment (see story).
Although anniversaries can be spun out of many different occasions, they rarely feel overwrought.
"As a rule, people associate heritage with craftsmanship and quality, making anniversary celebrations a solid way to reinforce the brand's luxury offerings," Mr. Rains said.
Final take
Joe McCarthy, editorial assistant on Luxury Daily, New York