French furniture company Roche Bobois is connecting consumer penchant for home design and modern art through a collection featuring the artwork of French artist Jean Cocteau available for purchase Dec. 1.
The furniture maker joined forces with the Jean Cocteau Committee which manages Cocteau's estate to create a series of products that double as functional pieces of art. Roche Bobois is likely to introduce Cocteau's work to its own enthusiasts in a way that makes the artwork more accessible.
"Jean Cocteau is one of France's greatest artists, and without a doubt the most muti-faceted icon: poet, novelist, designer, painter, playwright, choreographer, scenographer, film director, scriptwriter, actor, publisher, journalist and radio personality," said Jennifer Barre, marketing director of Roche Bobois North America, New York.
"He embraced creativity in all its forms and it is an immense privilege and responsibility for Roche Bobois to be given the opportunity to contribute to promoting his work.
"This year being the 50th anniversary of his death, and Roche Bobois being a little over 50 years old, there was no better timing to show how modern and relevant Jean Cocteau's art still is today," she said. "We trust admirers of Jean Cocteau will enjoy seeing his art live on through a new interpretation.
"People who may not yet be familiar with our brand will hopefully be introduced to our core values of European know how and dedication to the highest quality. While Roche Bobois is usually known for bringing contemporary designs to life through furniture and decoration, this collaboration is the perfect opportunity to bridge the worlds of art and home."
Living on through art
The collaboration with Roche Bobois comes 50 years after the artist and novelist's death in 1963.
Roche Bobois' collection is based on two concepts that the design firm and the Jean Cocteau Committee agreed upon. The first was to recreate Cocteau's ceramics but use an engraving process prior to firing to promote longevity and, secondly, to use mediums that the artist never used during his career such as textiles, according to Harper's Bazaar.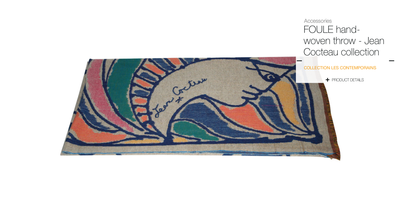 Jean Cocteau throw blanket by Roche Bobois
The 33-piece collection is meant to "remind us of the strength and contemporaneity of [Cocteau's] work." The Roche Bobois Jean Cocteau collection features a range of decorative pillows, ceramic serving trays and vases, bed linens, rugs, lighting and pieces of furniture.
Each of piece in the collection features Cocteau's poetry and literary works in hand-written text as well as his well-known drawings of silhouettes and geometric shapes. The collection's standout pieces are its tablewares that are limited to 1,000 units.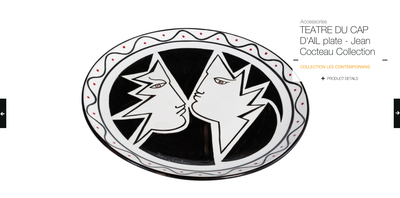 Consumers can view the Jean Cocteau collection on Roche Bobois' Web site but are unable to buy through ecommerce. Instead, consumers can share the piece on Facebook or over email, add to favorites and print the image out.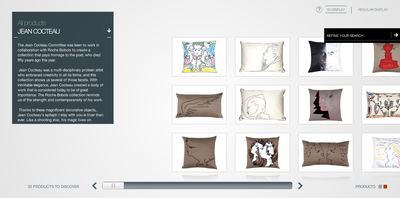 Roche Bobois' Jean Cocteau Web site section
The design firm began promoting the collection in October via its Facebook account to generate interest among its core consumers and design enthusiasts before the December launch.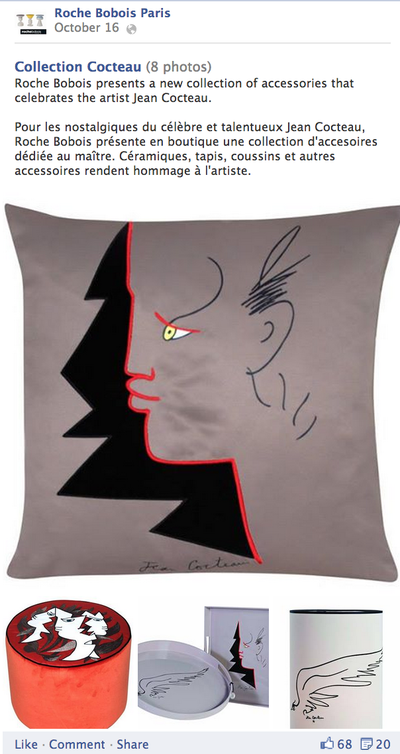 Roche Bobois' collaboration with the Jean Cocteau Committee is part of the design firm's larger collection of contemporary designs, Les Contemporains.
Designing luxury
Home collections illustrate a branded atmosphere that lets enthusiasts surround themselves in the scenery of their preferred brand.
For example, Italian fashion house Versace flaunted the craftsmanship of "The Haas Brothers for Versace Home" collection through a multichannel campaign that comprises live and digital tactics.
One element of the campaign to push the label's new project is a video that shows the design process. Versace also promoted its partnership with Haas Brothers furniture and design studio through an opening event and digital marketing (see story).
In addition, U.S. label Ralph Lauren celebrated the 30th anniversary of its home collection with a microsite dedicated to the philosophy and craftsmanship behind its interiors.
Ralph Lauren's first endeavor into homewares was in 1983 when the brand launched its "Log Cabin," "Thoroughbred," "Jamaica" and "New England" collections. The home collection has grown and evolved to encompass many more facets of interior design that mirror the sensibilities of its core consumers (see story).
Collaborations with artists can benefit brands across all sectors, but the notoriety of the designing partner's must have mass appeal to truly succeed.
"Ultimately the success or failure of the Roche-Bobois and Jean Cocteau collaboration is going to rest on the appeal of the designs of each individual piece," said Pam Danziger, president of Unity Marketing, Stevens, PA.
"At the same time Roche Bobois as a brand has a very modernistic feel, quite in keeping with the artwork of Jean Cocteau," she said.
"This clearly isn't a line for the masses, but quite effective for a niche consumer market that appreciates Mr. Cocteau's art and Roche Bobois design sensibility."
Final Take
Jen King, editorial assistant on Luxury Daily, New York