NAPLES, FL – A Gucci executive said at the Luxury Summit 2014 that through charity initiatives the label is able to motivate consumers to become more active.
Gucci has been a forerunner in the digital space and the brand's charitable campaigns are regarded as progressive, even in the luxury sector. A well-conceived charitable initiative allows for dialogue on subjects that can boost a brand's credibility, which can lead to even more socially responsible activities.
"We believe in that the notion of doing good and leading business in an appropriate way is a fundamental code of [Gucci]," said Robert Triefus, chief marketing officer of Gucci, Milan, Italy.
"We want people to be aware of the initiative and that we're active in sustainability and human rights," he said. "We've led the industry in high standards as a pioneer in sustainability and impact of the environment.
"Hopefully, as that becomes known, people will use this as a takeaway. [Also,] it is incredibly empowering for the internal community."
The Luxury Summit was hosted by Richard David Story, editor in chief of Departures, and Evelyn Webster, executive vice president of Time Inc.
Social responsibility
Mr. Triefus began his conversation with Trevor Neilson, president of the Global Philanthropy Group, by stating that Gucci's charitable campaigns are not superficial.
Rather, Gucci felt that charitable partnerships as core, citing the label's work with UNICEF. Through such campaigns, Gucci learned a new way to engage and motivate its consumers.
By uniting behind a common cause, Gucci connected with its consumers on a higher level, while also having an opportunity to further the cause of its partners.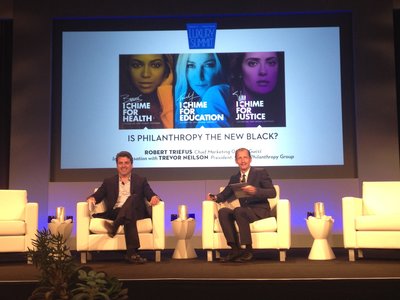 Global Philanthropy Group's Trevor Neilson with Gucci's Mr. Triefus
Gucci looked to the tastes and interests of its female consumer base to determine projects. From there, the brand expanded its original work with UNICEF and began to focus increasingly on empowering disadvantaged girls and women throughout the world.
"We realized consumers are more sophisticated in how they look at philanthropy and social responsibilities," Mr. Triefus said. "Consumers want to be part of an ongoing commitment."
With that notion in mind, the brand developed its Chime for Change initiative. Gucci realized the need for incorporating technology to meet the sophistication of its consumers.
For example, Gucci teamed up with Twitter to continue the charitable efforts of Chime for Change Dec. 5-7 with a hackathon called "Chime Hack" that sought to create mobile applications to assist women and girls in need.
The organization opened up a dialogue between tech-savvy and fashion-forward philanthropists and celebrated women in the technology industry, while helping those in need. Focusing on the three core areas of Chime for Change's mission – education, health and justice – Gucci aims to make a difference without any attention paid to profits (see story).
Technological touch points such as Chime for Change's Hackathon and its recently released mobile application (see story) allow for Gucci clients, as well as unfamiliar consumers, to further engage.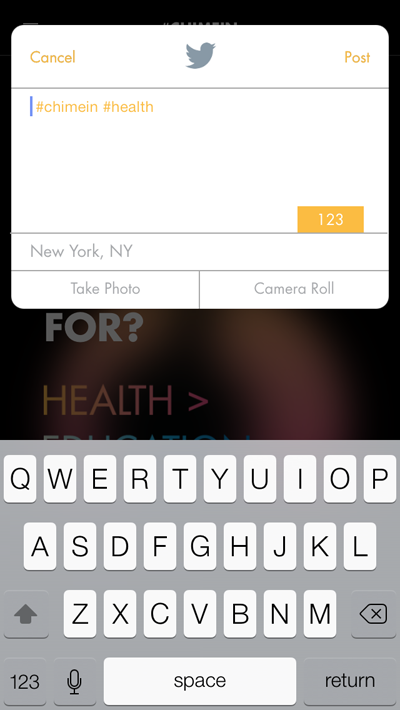 Gucci's Chime for Change app
Mr. Triefus emphasized that the brand's continued commitment allows initiatives to seem sincere to onlookers.
To date, Gucci's work with UNICEF has raised $20 million, while its Chime for Change initiative has freed hundreds of girls from the sex trade, taught literacy to hundreds and immunized 10,000 young girls and women worldwide.
For the greater good
Gucci's parent conglomerate Kering also stresses the importance of sustainability.
For instance, Kering will speak at the third Copenhagen Fashion Summit April 24 on sustainability to highlight its work.
Since the first Copenhagen Fashion Summit in 2009, Kering has been a keynote speaker at the biennial event. Kering is able to position itself as a leader in sustainability practices among luxury brands and companies through this participation (see story).
As Chime for Change enters its second year, Mr. Triefus stressed it will continue to use technology to connect on a massive scale.
"Fortunately, we have created something with great meaning," Mr. Triefus said. "Now we have the responsibility to make sure that it lives up to its expectations."
Final Take
Jen King, editorial assistant for Luxury Daily, New York