British department store Fortnum & Mason is inviting consumers to visit its Honey Supper Club and auction to celebrate bees.
This will be the sixth year of honey harvest by the British retail store and, as per tradition, the first jars of honey from the year will be auctioned for charity. Fortnum & Mason will have the opportunity to honor local roots and celebrate a growing tradition.
Bee culture
Fortnum & Mason showcased the people behind its coveted honey collections in a social video earlier this month.
The video spent time on the store's roof with two of the men that handle the honey cultivation. For consumers who look forward to buying the retailer's curated honey selection each year, the behind-the-scenes video will resonate (see story).
Those who are aware and follow Fortnum & Mason's bee season will likely be interested in the dinner and auction on Sept. 25 at 7 p.m.
The auction will celebrate the harvest from the Piccadilly hives as well as from the new hives in Hoxton.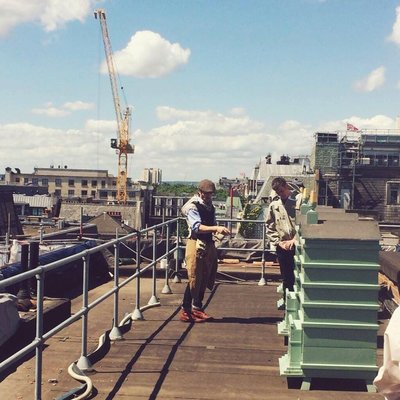 Fortnum & Mason beehives
Two lots will be auctioned for The British Beekeepers Association, a foundation that has been in the United Kingdom since 1874 and promotes the craft of beekeeping through education and organization of beekeepers.
Lot 1 at the auction will consist of the 2014 Piccadilly honey in a limited-edition jar, a Fortnum's olive wood and sterling silver honey drizzler and a guided tour of the four hives on the Piccadilly store roof with the bee master, as well as a Champagne honey tasting.
The second lot will have the first jar of the 2014 Hoxton honey in a limited-edition jar, the same drizzler and a honey inspired dinner for up to six guests in Fortnum & Mason's crypt beneath Piccadilly.
Tickets to the auction and dinner cost about $73.