Longines and the Interntaional Federation of Horseracing Authorities will present the Longines World's Best Jockey award to the jockey with the best performance across certain highly ranked races.
At the Longines Hong Kong International Races in December, the award will be presented to the chosen jockey. This event will celebrate the athletes behind horse racing and increase focus on top racing events around the world.
Longines racing
Longines has historically been aligned with equestrian sports.
Earlier this year, Longines showcased its relationship with equestrian sports with a new social video that paralleled the dedication involved in horse training with that found in fine watchmaking.
The watchmaker's "Horse Racing 2014" film took the viewer on a journey as a jockey and his horse prepare for a race. Although Longines frequently highlights its connection to equestrian sports through timekeeping and brand sponsorships, the spring was an ideal time to release a video like this as the horse racing world prepared for its prime season (see story).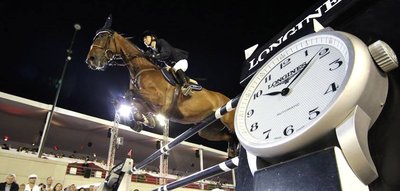 Longines as timekeeper
The World's Best Jockey will be chosen through a scoring system based upon the performances in the 100 highest-rated Group 1 and Grade 1 races. The system has been established by the Longines World's Best Racehorse Rankings Committee.
Races will be evaluated from Dec. 1, 2013 until Nov. 30. Jockeys receive 12 points for a win, six points for second place and four for placing third.
On Dec. 12 at the gala dinner in Hong Kong, the winning jockey will be announced.