British department store Fortnum & Mason is inviting consumers to enjoy some ice skating and tea as the weather cools.
The retailer teamed up with the cultural center Somerset House to offer guests the "Skate & Afternoon Tea" package. Retailers across the luxury space continually look to become known as experiential centers in addition to stores.
A full day
The skating and tea experience will first bring consumers to the Somerset House's ice rink.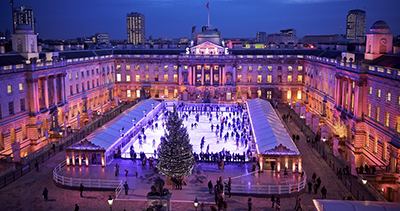 Somerset House skating rink
Two hours after beginning the skate session, guests will head to Fortnum & Mason nearby for the tea experience.
While at the Diamond Jubilee Tea Salon, guests will receive finger sandwiches, scones, cakes and a choice of Fortnum's house tea blend.
Interested consumers can book the offer for around $97, plus additional fees that may apply, on the Somerset House's Web site.
Consumers can book the experience between Monday and Friday between 10 a.m. and 4 p.m.
Fortnum recently invited consumers to visit its Honey Supper Club and auction to celebrate bees.
This was the sixth year of honey harvest by the British retail store and, as per tradition, the first jars of honey from the year will be auctioned for charity. Fortnum & Mason will have the opportunity to honor local roots and celebrate a growing tradition (see story).