Italian menswear label Canali recently opened its ninth boutique in Beijing in the China World shopping mall.
The new store will uphold the usual designs of the brand and offer a new option for Chinese consumers to interact with Canali. The increased presence in China will likely increase brand awareness draw attention to the new store in particular.
Growing stronger
The store will be about 2,800 square feet and feature marble and oak finishes. The store will host a Su Misura service, in which a tailor guides the consumer through the creation of a custom-made garment.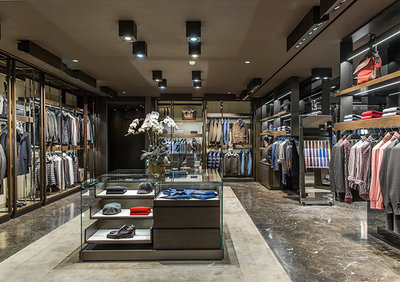 Canali Beijing store
Also, the windows of the store will face both the street and the inside of the mall, allowing for light to shine through the shop.
Canali recently started a campaign with actor Michael Douglas.
The Italian menswear label is shaping "the art of the entrance" with the latest edition of "200 Steps" starring Mr. Douglas.
Canali's 200 Steps series interviews artistic men about their craft, aspects of their personal life and what has influenced their careers. By opening the series up to one of Hollywood's best-known actors, Canali will widen its scope to reach not only fans of its designs, but also those who closely follow Mr. Douglas' career (see story).