Toyota Corp.'s Lexus is using digital content to tease the LF-C2 concept vehicle prior to its official debut at the Los Angeles Auto Show.
Starting Nov. 16 at 1:40 p.m., exactly 72 hours before the reveal on Nov. 19, Lexus will share changing images each hour, depicting the car in the light of a brightening solar eclipse. Giving consumers a way to actively follow the reveal wherever they are will expand the audience for the event.
Giving a glimpse
Lexus has set up a dedicated page on its Web site for the LF-C2. For now, there is an image of a dimly lit silhouette of the car.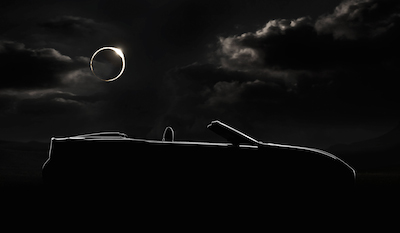 Lexus LF-C2 teaser image
Once the reveal begins, consumers will be able to vote on what part of the car they would like to see next.
Lexus is also using social media to drive attention, using the hashtag #LexusInLA to generate a conversation.
The press conference will be live-streamed to allow fans to take part in the event.
Although luxury automakers receive immense traffic at auto shows, there are certain tactics that can meaningfully increase engagement.
The proximity of so many competitors can diminish the impact of a single brand. Consequently, automakers should incorporate unexpected activities or technologies into their display areas to generate new conversations (see story).