German automaker Mercedes-Benz is introducing mobility services to two communities in South Orange County, CA, to test how such options work in suburban areas.
A few automakers have committed themselves to figuring out how to optimize mobility across the globe, especially in urban centers where congestion and pollution are rampant problems. Mercedes-Benz' Business Innovation group created RanchRide to bring this concept into less scrutinized areas.
"While the use of mobility services in established metropolitan downtowns and other urban areas has been well-documented, there's not a lot of information on the testing of new mobility services among young and maturing families as well as active adults living in well-defined Southern California suburban markets," said Andrea Berg, corporate communications at Daimler, New York.
"Both Ladera Ranch and Rancho communities are within well-defined suburban markets," she said. "Specifically, these target markets include young people, working adults and retired, active adults.
"This makes Ladera Ranch and Sendero/Gavilan ideal for testing mobility options."
Hop on
RanchRide will offer transportation to residents in the 4,000-acre Ladera Ranch community and the 6,000-acre Rancho Mission Viejo community, both in South Orange County, CA.
Several different RanchRide mobility services will be available to residents in 14-seat Mercedes-Benz Sprinter passenger shuttles.
Passengers are asked to register on www.RanchRide.net to receive eligible cards. Next, consumers can get onto a shuttle at a key location or select a destination on the Web site beforehand to secure a spot.
The first program is the "RanchRide Circulator," a fixed-route loop shuttle operating Monday through Friday within Ladera Ranch. The loop takes residents to shopping centers and clubhouses.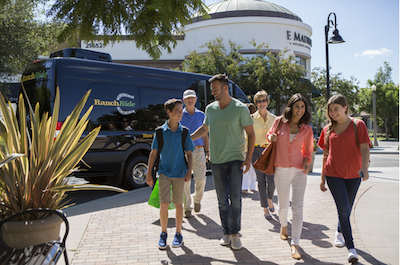 Mercedes-Benz RanchRide offer
Next, a shuttle service called "RanchRide Destination" runs on Tuesdays and Thursdays and brings riders to places such as Irvine Spectrum, Newport Center/Fashion Island, South Coast Plaza and various beach communities.
On Fridays, residents can take a shuttle service for night-life happenings.
The "RanchRide Charter" allows residents to customize round-trips or one-day destinatinations anywhere in Southern California.
Finally, the "RanchRide Commuter Express" is available for employers/employments facilities in Irvine Spectrum.
Future rides
Other automakers have pioneered initiatives to make the future of driving more sunny.
Audi, in particular, has worked to combat the growing concerns of urban mobility.
For instance, the German automaker continued to grapple with pressing global issues through its Urban Future Initiative Award 2014.
Fans voted between three speed pitches by United States teams vying to take part in this year's urban future initiative. Philip Parsons, urban planner and founder of Sasaki Strategies, and Federico Parolotto, mobility expert and principal of Mobility in Chain received the most votes for their "New online marketplace for mobility" proposal and were given the opportunity to flesh out their ideas until October (see story).
Also, Audi of America teamed up with MIT and General Electric to track more than 150 million taxi trips in New York to address urban transportation problems.
The "HubCab Project" will sift through data from a transportation tracking tool to uncover commuter patterns for optimizing ride-sharing. The team sees increased ride-sharing as an important step to reducing emissions, congestion and the costs for mobility infrastructure (see story).
"The bottom-line is that RanchRide is unique because it allows us to test mobility services in well-defined suburban markets among our target consumer groups of young and mature families as well as active adults," Ms. Berg said.
"This is a new market for us and we are very happy to be partnering with Rancho Mission Viejo to introduce RanchRide," she said.
Final Take
Joe McCarthy, staff writer on Luxury Daily, New York