German automaker Mercedes-Benz is experimenting with social media platform EyeEm for a new photo-sharing campaign.
The campaign highlights Mercedes-Benz's dedication to elegance within their vehicles and speaks to the elegance that can be found everywhere and in everything. The tagging in EyeEm and the social media sharing beyond the application will likely spread this campaign across Mercedes-Benz's consumer base.
"They want to associate those feelings of elegance with their product offerings, they want to associate that their cars can help take you anywhere you want to go and you can have their feeling of elegance wherever you are, they want to associate both these with their products and make their costumers feel a certain way," said Brian Honigman, New York-based content marketing consultant and social media marketer.
Mr. Honigman is not affiliated with Mercedes-Benz, but agreed to comment as an industry expert.
Mercedes-Benz was unable to respond by press deadline.
Elegantly marketing
The campaign was promoted on EyeEm's blog and the application's "missions" section. The concept of the tag for the campaign comes from the natural way in which something elegant can blend into its surroundings.
Elegance of movement, nature and man-made things can be overlooked, but are part of everyday experiences. Mercedes-Benz is taking this notion of elegance and reflecting it upon the vehicles produced by the brand.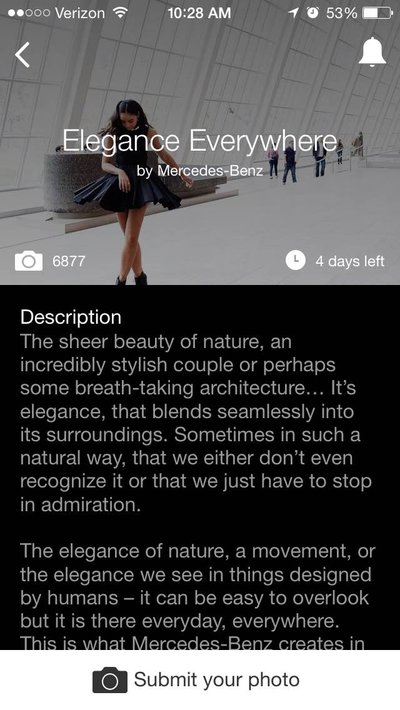 Elegance everywhere description on EyeEm
By highlighting elegance, Mercedes-Benz is able to align its automobiles with the concept.
The campaign asks consumers and fans to submit a photo that portrays elegance. Five images will be chosen as winners and featured on Mercedes-Benz's social channels. Between Facebook, Twitter, Tumblr and other platforms, the brand has 17.5 million fans who the winner's photos will be shared with.
Elegance everywhere submissions
Also, the winner will be featured on the EyeEm blog as part of an image collection.
As of press time the campaign has 7,018 submissions and will end on Nov. 29.
Snap and submit
Hosting a social photo contest encourages consumers and fans to engage with the brand and hashtags offer a way for brands to spread the reach of the campaign.
For example, Italian automaker Ferrari kept a new social media contest through Feb. 10 as open-ended as possible by asking fans to showcase their passion for the brand.
The Snap your Passion contest garners photos that show how Ferrari has branded fan lives in some way, whether through a vehicle, clothing or a tapestry, thus turning the entrants into brand advocates. Although the contest does not present much in the way of originality, it affirms the notion that many fans just want to connect with their favorite brands on a regular basis (see story).
LVMH-owned Champagne maker Moët & Chandon welcomed social media followers to participate in a summer-long photo contest.
Each month the theme will change, but the underlying tone will be represented by the hashtag #IceChallenge. Since participants can upload their image on any social media platform and tag the brand and the contest, Moët & Chandon reached a wide range of its consumers (see story).
The importance of reaching consumers makes photo contests enticing for brands.
"[Mercedes-Benz] is trying to ensure they are getting this message to the widest audience possible," Mr. Honigman said.
"A person who is entering is an avid Mercedes-Benz fan or someone with strong photography skills, they are the people interested in Mercedes-Benz," he said. "With the tag they are trying their best to get the message to a wider and relevant audience. Not everyone sees it, but they are hoping they reach the right people."
Final Take
Nancy Buckley, editorial assistant on Luxury Daily, New York