Scottish whiskey distiller The Macallan has recruited fashion and portrait photographer Mario Testino as its fifth Master of Photography series.
For the Master of Photography series, Macallan invites photographers to capture the brand's six pillars through their own lense. Mr. Testino worked with Macallan to bring to life its foundational pillars by giving each its own personality.
From film to life
Macallan's Masters of Photography: Mario Testino Edition brings together six different casks of whiskey to showcase the distiller's complexity. Each of the whiskeys also represents one of the Macallan's six pillars: the Spiritual Home, Curiously Small Stills, Finest Cut, Exceptional Oak Casks, Natural Color and Peerless Spirit.
For this limited-edition expression, Macallan's master whiskey maker personally selected the six casks from more than 200,000 barrels at the distiller. Similar to Mr. Testino's approach to photography, the master whiskey maker achieved this by "adding layer upon layer of character and flavor."
Macallan has only created 1,000 Mario Testino Editions to be sold globally for $3,500. The four variations feature an iconic photograph taken by Mr. Testino and are presented in a high-gloss, black lacquered box inspired by Asian technique.
Designed by Mr. Testino and Macallan, each box is numbered and features a hidden compartment, an exclusive photo booklet, a bottle of single malt whiskey and six small decanters of the casks representing the pillars. For the included imagery, Mr. Testino photographed characters representing the Six Pillars of Macallan in Beijing at the former palace near the Forbidden City and Tian'anmen Square.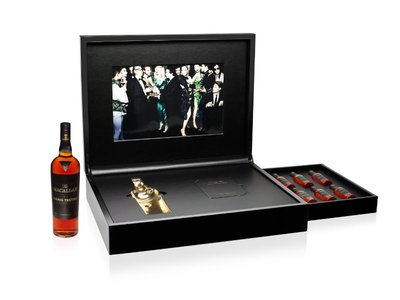 The Macallan's Masters of Photography: Mario Testino Edition
Macallan's Masters of Photography series has also seen the distiller work with Elliott Erwitt, Annie Leibovitz, Rankin and Albert Watson.
The whiskey maker has explored its pillars in physical ways as well. For instance, Macallan took over the display windows of London department store Harrods to tout the lifestyle of its drinkers.
Over the summer, Macallan set up a pop-up shop titled "The Macallan Lifestyle Lounge" in window panes five and six on Hans Road. Accessed by nearby Harrods' Door 9, the positioning of the pop-up lounge is likely to attract curious passersby as they catch a glimpse of the activities inside (see story).