French furniture company Roche Bobois is promoting the designs of a leading interior designer through the annual Holiday House effort.
The Holiday House initiative was introduced in 2008 to raise awareness and proceeds for The Breast Cancer Foundation. For 2014, Roche Bobois teamed with designer Michael Tavano to redesign the interior of a room at the Academy Mansion on New York's Upper East Side.
Home for the holidays
Roche Bobois' Holiday House brings together seven designers to outfit different rooms at the Academy Mansion.
The Holiday House is open to the public from Nov. 20 through Dec. 21 and allows Roche Bobois to showcase, in an interactive, physical manner, how its furniture can be worked into a room. Roche Bobois shared the images of the Holiday House on its Facebook to include consumers outside the New York area.
As an example, Roche Bobois shared Mr. Tavano's room at the Academy Mansion. For the project, Mr. Tavano incorporated Roche Bobois' leather-upholstered Chercher Midi bed, the Parisian Florian arm chair upholstered in Jean Paul Gaultier fabric, a red Micmac bookcase and the Victor bar cabinet.
Mr. Tavano drew inspiration from the blue, white and red of France's flag as an "ode to Paris."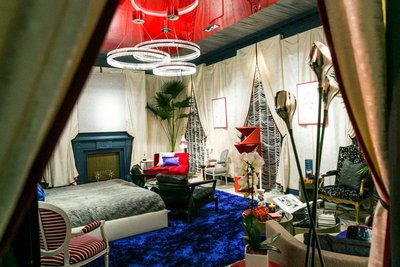 Michael Tavano and Roche Bobois' room at the 2014 Holiday House
Other home furnishers to participate in the 2014 Holiday House include 1stDibs, Baccarat, Farrow & Ball and Fendi Casa. In total, including Mr. Tavano, 23 designers worked on rooms found within the Holiday House.
Temporary room displays are often created for charitable causes. For instance, during Architectural Digest's Home Design Show, a number of brands took the opportunity to align themselves with a cause.
Barneys New York, Roche Bobois, Ralph Lauren Home, Diane von Furstenberg and Calvin Klein participated in Design Industries Foundation Fighting AIDS' Dining By Design event, for which they each created a design installation (see story).