Private aviation provider Magellan Jets is presenting an exclusive offer for the holiday season with a discounted gift card.
Consumers will be able to buy a $10,000 gift card for a discounted price for one week on Rue La La. By discounting this experience, Magellan Jets will likely spark the interest of consumers who were previously questioning purchasing credit for private aviation.
Private gift
Rue La La typically hosts various deals on fashion and accessory collections, this Magellan Jet gift card will likely be seen by affluent consumers browsing the site this holiday season.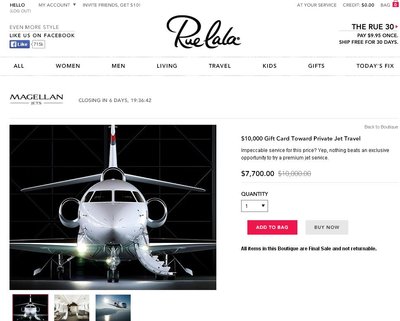 Magellan on Rue La La
The gift card is $7,700 and provides access to light-, mid-, supermid- and large-cabin aircrafts. Users must take a flight with a minimum of two hours of air time to use the gift card.
On Rue La La, the card is available Dec. 18 through Dec. 25.
Other luxury brands have been pushing gift cards for the holiday season.
For instance, Four Seasons Hotels and Resorts is aiming to swell traffic in 2015 with an updated holiday gift card campaign.
Instead of focusing solely on the rooms that guests can book, the hotel chain is emphasizing the experiences that can be purchased with the cards. In doing so, Four Seasons is reminding consumers that its properties are more than places to sleep, although guests who enjoy this feature can use their cards to purchase Four Seasons mattresses (see story).