Irish crystal-maker Waterford is adding another annual decoration to the New York Times Square New Year's Eve ball.
For 10 years, Waterford is decorating the ball with the second annual addition to the iconic New Year's Eve piece. This 10-year initiative will bring even more attention to the brand as millions of people watch the ball drop on New Year's Eve.
Three, two, one
This year's theme revolves around Waterford's "Award of Fortitude," presented to the International Rescue Committee, an official partner of Times Square New Year's Eve.
The award honored the International Rescue Committee's efforts to restore hope, dignity and opportunity worldwide.
For 15 years the Waterford crystal triangles have decorated the ball, and each year the brand has designed a new signature cut crystal pattern. Beginning last year, the brand decided to change a portion of the triangles each year so that after 10 years there will be 10 different designs.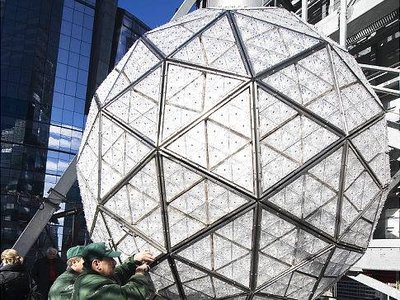 New Year's Eve ball
Last year, Waterford Crystal aimed to increase brand awareness by publicizing its involvement in New York's New Year's Eve celebration through social media updates that explore facets of the brand's connection to the Times Square Ball.
The brand used multiple posts on its Facebook page to promote its new 10-year "Greatest Gifts Collection" inspired by the theme of the 2014 Waterford Times Square New Year's Eve Ball. With the New Year's Eve Ball at the forefront of the collection's promotions, Waterford is likely to appeal to consumers excited for the new year and who may have been unaware of the company's role in New York's annual celebration (see story).
This year, 288 of the 2,688 crystal panels will be changed to the 2015 "Gift of Fortitude" design.