Jewelry house Van Cleef & Arpels is returning as a sponsor for the School of American Ballet's 2015 Winter Ball for the eighth consecutive year.
Held on March 9 at Lincoln Center's David H. Koch Center, the event is a black tie dinner and dance, including a special performance by advanced students in the program. Having a presence at this ball will help Van Cleef & Arpels reach an approximate group of 500 guests, who include corporate and cultural leaders, many of whom are likely affluent individuals.
On pointe
This year's Winter Ball will focus on the school's co-founder George Balanchine's love of Americana, featuring a redecorated space inspired by Pop Art and the 1970s. Proceeds from the event will go to scholarships, virtual programs, faculty support and studio maintenance.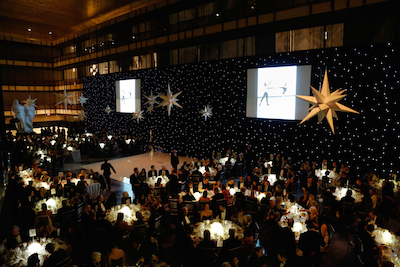 American Ballet School Ball 2014
Van Cleef & Arpels has had a longstanding relationship with the School of American Ballet, based on the friendship between Mr. Balanchine and founding brother Claude Arpels, introduced through a mutual friend.
This friendship lead to the Jewels ballet, which premiered in 1967. The three-part non-narrative ballet took inspiration from emeralds, rubies and diamonds for both the underscoring and costumes.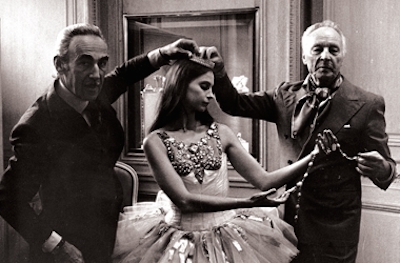 Left to right: Pierre Arpels, ballerina Suzanne Farrell and George Balanchine
Outside of the New York City Ballet, Van Cleef & Arpels has established a relationship with ballet.
Van Cleef & Arpels highlighted an artistic relationship with Russia by expanding its high-jewelry collection Ballet Précieux to include pieces inspired by five Russian ballets.
The collection of 29 pieces was available in only Russia for a period of time before being on display in Van Cleef & Arpels' boutiques elsewhere in the world. As the global community gears up for the Winter Olympics in Sochi, Russia, Van Cleef & Arpels will spread awareness to affluent consumers visiting the region in a culturally-rooted way (see story).