The Council of Fashion Designers of America is teaming up with Accenture to help its member labels innovate for today's retail and technology environment.
Together, Accenture and the CFDA will create talent development programs and outline their ideas for the store of tomorrow in a series of articles, with their hypothesis gaining real-world testing via pilot programs with CFDA members. This partnership is expected to be mutually beneficial, combining Accenture's experience in digital and operational strategy with the CFDA's creative community.
Reinventing retail
With this collaboration, Accenture is becoming the official innovation partner of the CFDA's Retail Lab.
Launched last year with Cadillac, the Retail Lab is a store within the automaker's Cadillac House in New York. This shop gives up-and-coming designers an opportunity to test out bricks-and-mortar retail for a three-month period with the financial support of Cadillac and mentorship from the CFDA (see story).
Accenture will work with the Retail Lab designers to help them develop their retail strategy for the modern retail market, focusing on building digital and business skills.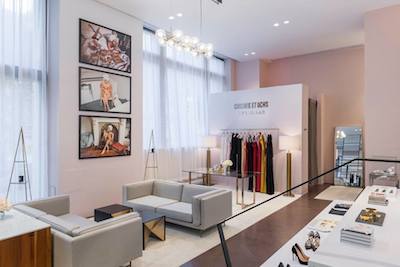 Retail Lab during Cushnie et Ochs takeover
Fjord, an innovation consultancy within Accenture Interactive that focuses on bringing new concepts to life, will offer support to the project. Designers will be given the chance to visit the firm's studio in New York, and some will have the chance to participate in a design challenge and possibly have their ideas prototyped.
"The CFDA represents the fabric of the fashion industry and has been instrumental in giving emerging talent a series of platforms to gain real-world business and retail experience," said Jill Standish, senior managing director of Retail at Accenture. "Working together with such a prestigious organization, we can help these designers acquire highly sought-after digital skills needed for them to be at the forefront of industry innovation, grow their businesses and drive tangible business results."