French leather goods brand Louis Vuitton is continuing the global journey of its travel-themed "Voguez, Volez, Voyagez" retrospective with a stopover in New York.
Described as a 161-year voyage, Louis Vuitton's Volez Voguez Voyagez retrospective opened in 2015 at Paris' Grand Palais, a special site for the brand as it displayed its bags and luggage there during the Universal Exhibitions in 1900. The title of the exhibition translates to "Fly, Sail, Travel" to celebrate Louis Vuitton's tradition of trunk making that dates back to 1854 (see story).
New York state of mind
From Oct. 27 through Jan. 7, 2018, Louis Vuitton will stage the free to the public Voguez, Volez, Voyagez exhibition at the former American Stock Exchange at 86 Trinity Place in New York's downtown Financial District.
As with previous stops in Paris, Tokyo and Seoul, South Korea, the exhibit has been curated by Olivier Saillard and will lead visitors through Louis Vuitton's history. The journey of Louis Vuitton has been brought to life by Robert Carsen's scenography.
Beyond New York being a vital port city, Louis Vuitton has close ties and a longstanding presence in the United States. George Vuitton, for example, the creative behind the brand's iconic monogram canvas, and Louis' son, participated in the 1893 Chicago World Fair.
Notable U.S. clients' archival items such as Ernest Hemingway, Lauren Bacall, F. Scott Fitzgerald and the Rockefeller and Vanderbilt families will be on display during the exhibit's run. Other sections will be dedicated to Louis Vuitton's craftsmanship and workshops.
Also, Louis Vuitton will this opportunity, given the holiday season, to promote its artistic collaborations with Stephen Sprouse and Jeff Koons.
Volez, Voguez, Voyagez - Louis Vuitton in New York
With the exception of Thanksgiving Day and Christmas Day, the exhibit will open daily, with hours reduced for Christmas Eve, New Year's Eve and New Year's Day.
For the duration of the Voguez, Volez, Voyagez exhibition, Louis Vuitton will offer the New York edition of its City Guides app for free. Louis Vuitton's app includes more than 500 addresses to enhance visitors' experience in the Big Apple.
Last year, Louis Vuitton's embrace of the spirit of travel earned it a spot on Apple's "Best of 2016" mobile app list.
Louis Vuitton's City Guide app is a mobile adaptation of print travel recommendations and tips published by Louis Vuitton since 1998.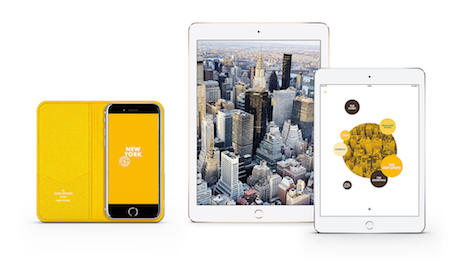 Louis Vuitton's City Guide apps for New York
In either mobile app or print form, Louis Vuitton City Guides are meticulously curated by the brand. The app version brings to life 29 international cities such as Paris, Milan, Beijing and New York (see story).