The "Yves Saint Laurent" biographical film is likely to add to the designer's stature as it opens in select United States theaters June 25.
The film follows the designer's career trajectory from an unknown youth to one of the most celebrated figures in the fashion industry. Although fashion biopics help to solidify a favored narrative of a sometimes mysterious figure, they do not always win the admiration of critics.
What's in store
Directed by Jalil Lespert and co-written by Jacques Fieschi, Jérémie Guez and Marie-Pierre Huster, the Saint Laurent biopic attempts to capture the tumult of the designer's private and professional lives as he rose to prominence in the fashion world.
Yves Saint Lauren trailer
The biopic was already screened in France where it received mixed reviews. The movie review aggregator Rotten Tomatoes currently has the film ranked at a 52 percent critic approval rating, but this number is prone to change as more reviews arrive.
Some aspects of the movie have been applauded. For instance, French actor Pierre Ninney supposedly delivers a strikingly accurate performance as the lead role.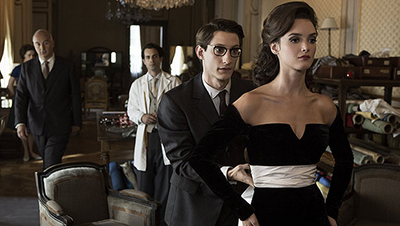 Video still from "Yves Saint Laurent"
Furthermore, founder biopics are generally intended for brand loyalists, since they tend to feature elements that only those steeped in brand history would recognize.
An additional Saint Laurent biopic will be released later this year.
Luxury brands, most notably Chanel, regularly leverage film to carve a coherent and inspiring origin story. Jeweler Tiffany & Co. tapped Matthew Miele, director of "Scatter My Ashes at Bergdorf's," for a documentary chronicling its history to be released in 2015.
The documentary will shed light on how Charles Lewis Tiffany developed the brand following its inception in 1837 and then travel through pivotal moments in its history (see story).